POSEIDON Illuminated mechanical gaming keyboard to launch this month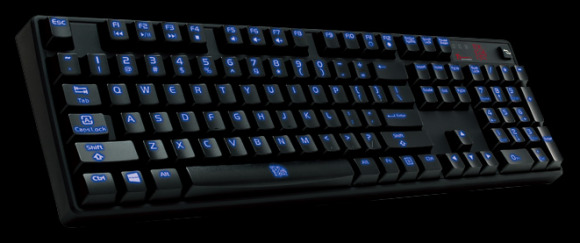 Tt eSports has taken the wraps off its latest gaming keyboard, the mechanical POSEIDON Illuminated. So that gamers "could have the change to experience" a mechanical gaming keyboard, Tt eSports promises that the device is a high-end offering that falls into an affordable price range, with the MSRP being pegged at $80 USD.
Tt eSports says the keyboard will go on sale this month through its website and other retailers, though it doesn't specify a specific launch date, instead advising buyers to keep an eye out for it. As far as features go, the POSEIDON has illuminated keys, hence its name, with a body that is made entirely of ABS plastic to prevent flexing when used.
The device is a plug-and-play offering, and features Cherry MX Blue switches that provides the mechanical-keyboard stiff, clicking feel to the keys. Power users are encompassed by the use of durable switches rated for 50 million keystrokes. Every key has an LED under it as part of the backlight system, with four levels of adjustment achieved using the Fn key.
Because the keyboard is aimed at gamers, there's 6 – 8 Key N-Key rollover support, which lets gamers shift between keys seamlessly. The F1-7 keys serve as media buttons when used in conjunction with the Fn key, and the Windows key can be toggled off easily with a disable key, helping to avoid bothersome incidents in the middle of game play.
SOURCE: Ttesport