Portal TV heads up Facebook's new smart screen lineup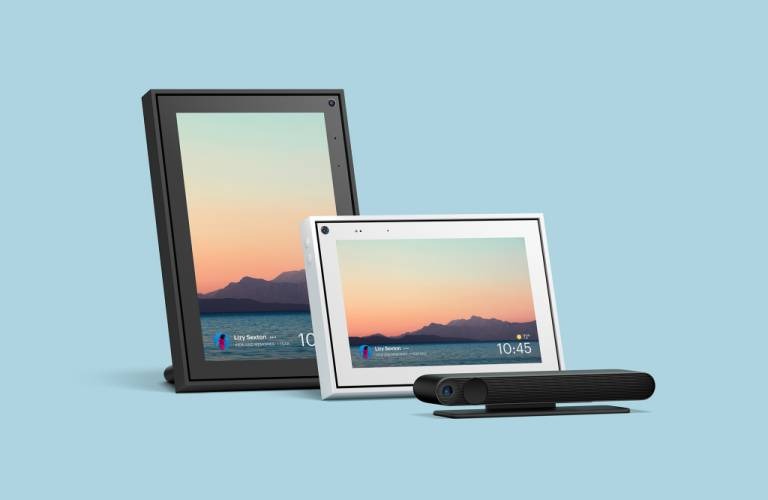 Facebook has announced a big refresh for its Portal lineup, today announcing three new devices for the family of devices. The first is a device with a 10-inch display that's taking up the standard "Portal" moniker. It's joined by the 8-inch Portal Mini and a new device called the Portal TV.
Of these new devices, it's clear that Facebook is most excited about Portal TV. The device looks strikingly similar to the Xbox 360-era Kinect, and it connects to your TV via HDMI to turn it into a video calling smart TV. Like the other Portals being introduced today, Portal TV features Facebook's smart camera which automatically pans and zooms to follow its subject, meaning that you can move around while video chatting and still be in-frame.
Facebook says that Portal TV can either sit below your TV or be mounted to the top of it. Portal and Portal Mini, on the other hand, sport an adaptive display that adjusts brightness and color to better match ambient light. Portal and Portal Mini can also be used to display Facebook pictures and videos when not in use through a feature called Superframe, and Facebook is also launching a new feature that allows for WhatsApp calling through Portal, which are end-to-end encrypted just like they are in the app.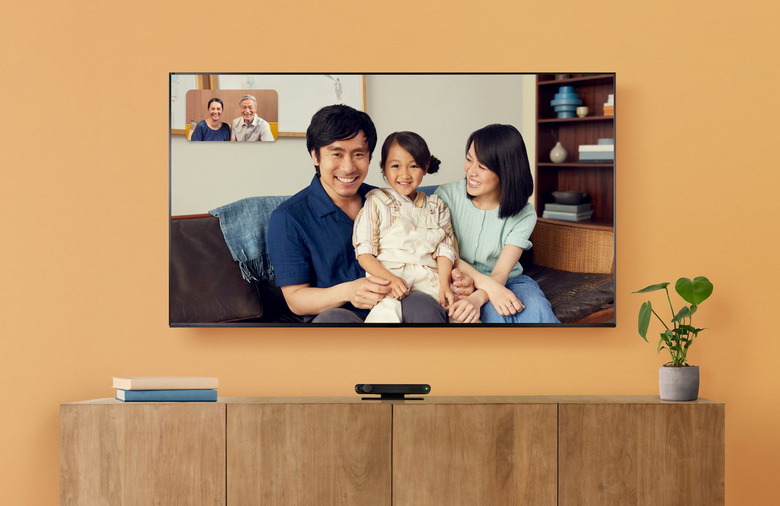 Privacy is actually something that's given a significant amount of attention in today's announcement. Facebook reminds prospective buyers that the cameras and microphones can be toggled off on any of the new Portals, and if that isn't good enough, each one also comes with a physical camera cover. The company also says that features like Smart Camera and Smart Sound – which both use AI – run locally instead of on Facebook's servers.
What's more, the company explained what happens when you say "Hey Portal" to wake your device. Facebook notes that Portal is always listening for those trigger words and, when they're detected, will send recordings and transcripts to the company. Once that happens, Portal team members may review the audio recordings or transcripts to improve Portal's speech recognition, but users can access all of their "Hey Portal" voice clips through Facebook's Activity Log, which is where those clips can be deleted as well.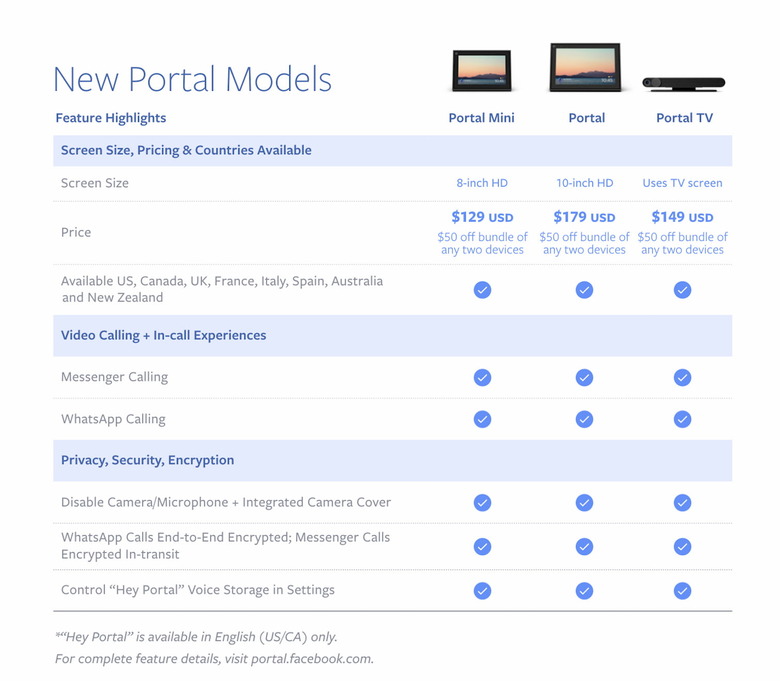 Facebook is definitely trying to convince consumers that it's taking privacy seriously with Portal, but whether or not those consumers believe it is another thing entirely. Facebook's recent history is dotted with privacy controversies, so for some folks out there, something like Facebook Portal is going to be a hard – if not impossible – sell.
In any case, the new Portal runs $179, while Portal Mini comes in at $129 and Portal TV costs $149. Facebook says that customers can bundle any two Portal devices to save $50 off the total cost, so for instance bundling a Portal Mini and Portal TV will cost $228. Portal and Portal Mini will begin shipping out on October 15th, while Portal TV will start shipping on November 15th. This time around, the entire lineup is launching in the US, UK, France, Italy, Spain, Australia, and New Zealand.