Portable recording studio for the musician in your life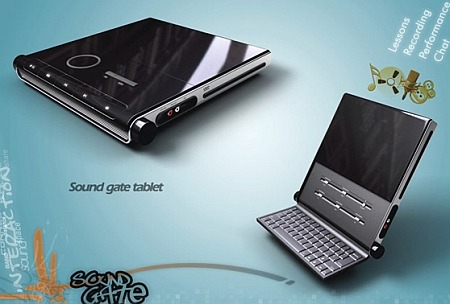 My dad and brother are both musicians so I am no stranger to music devices. (Though I couldn't carry a tune to save my life.) So I enjoy taking a look at what the music industry has to offer artists that want to take their music to the next level.
The SoundGate tablet PC is perfect for the one-man recording studio. It has most of the inputs that you are going to need, including RCA, XLR, 6.3 mm audio jack, headphone jack and of course, USB. It also has two softkeys and buttons for adding and controlling effects. Couple that with a 10" touchscreen and a flip-down keyboard, you've got a nice studio all wrapped up into a nice little package.
It's also great for musicians that are still learning. It can transcribe music, display sheet music and lyrics, generate accompaniment and even display a metronome.
Don't go looking for one just yet, this is still a concept design so we're not sure that we'll ever see one. I can honestly say that it would make a great Christmas present for my dad. Well, maybe if it were a Mac, he really doesn't like PCs.
Conceptual SoundGate PC For Musicians [via bornrich]