Portable GreenHouse Pocket drive provides external SSD with USB connectivity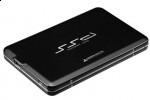 A waste of technology but there are occasions one seeks for durability than performance in external storage. The Greenhouse Pocket SSD GH-SSDEGU-M doesn't promise blisteringly fast transfer speeds, but the use of solid state MLC technology has level of ruggedness and durability which is simply unmatched with moving-part hard disk drives devices.
The bus-powered GreenHouse boasted a maximum read speed of 20MB/sec, and write speed of 18MB/sec though its USB 2.0 port. The palm-sized aluminum enclosure is small and lightweight, which measures in at a mere 117 mm x72 mm x 10 mm and weights in just 63g.
The Greenhouse external SSD drives are available in the GH-SSDE32GU-M with 32GB and the GH-SSDE64GU-M with 64GB capacity. Both will be available in late December with prices tag of 12,800 yen ($145), 22,800 yen ($258) respectively.