Porsche unveils 2013 Cayman in LA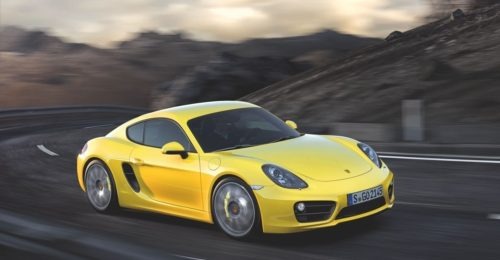 Sports car maker Porsche was on hand at the 2012 Los Angeles Auto Show and took the opportunity to make the world premiere of the new 2013 Cayman. The 2013 Cayman represents the third-generation of the car and Porsche promises it's completely new. The 2013 model is lower, longer, lighter, and faster according to Porsche.
Porsche also promises that the new Cayman is also more efficient and more powerful than ever. Porsche says that the new Cayman is up to 30 kg lighter than the previous model depending on the specific version and how it's equipped. Porsche also notes that the new Cayman uses 15% less fuel per 100 km and the outgoing version of the Cayman.
Porsche stuck to the formula that has made the Cayman successful with the 2013 being a two-seat mid-engine sports car available as a standard Cayman and the more powerful Cayman S. The base Cayman uses a 2.7-liter flat six-cylinder engine producing 275 HP. The base Cayman is able to hit 100 KMH in 5.4 seconds with a top speed of 266 KMH.
The high-end Cayman S has a larger 3.4-liter flat-six engine producing 325 hp. This version is capable of reaching 100 KMH in 4.7 seconds when properly equipped and boasts a top speed of 283 KMH. The newly designed Cayman also has new optional features available for the first time including adaptive cruise control. Another first-time feature is an optional Burmester sound system. The Cayman also gets a new optional keyless Entry & Drive system. Pricing and availability is unknown at this time.