Porsche 911 Speedster Concept celebrates 70th anniversary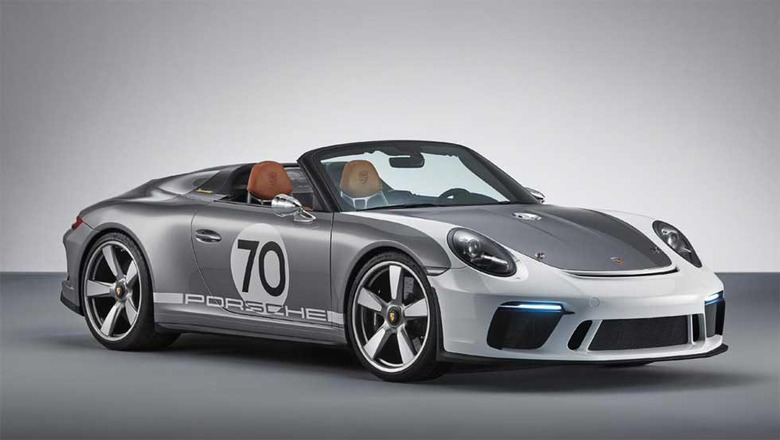 Porsche has rolled out the very cool 911 Speedster concept car. This car is meant to celebrate 70 years of Porsche sports cars. The design of the Speedster Concept is meant to pay homage to the very first Porsche 356 "No.1" Roadster. Porsche says that car received its operating permit on June 8, 1948.
Porsche gave the special car a two-tone paint job with silver and white trim and the concept was developed at the Porsche Motorsport Centre. That same place is where the 911 GT2 RS and GT3 RS were born. Porsche says that the concept gives a "glimpse" at the potential series-production version of the car.
The earliest you can hope for the new model to show up is 2019 and Porsche says that a final decision on a production version will be made in the coming months. The Speedster Concept has shorter window frames and a more slanted windscreen along with shorter side windows.
Those touches give the car what Porsche calls a "very low fly line" meant to remind of the Porsche 356 1500 Speedster. A rear cover made of carbon fiber connects behind the front seats covering a roll-over protection structure. That cover has a "double bubble" design that is a traditional element of the car from the 1988 911 Speedster.
Porsche doesn't give the car a convertible top, rather it has a lightweight tonneau cover that protects the car from rain when parked. The cover connects to the car with eight Tenax fasteners. The interior is snazzy looking in Cognac leather and the car lacks nav, radio, and AC. A manual transmission lives inside and the chassis is from a 911 GT3 with the body from a 911 Carrera 4 Cabriolet that is clearly modified heavily.
SOURCE: Porsche