Porsche 718 Cayman spotted winter testing tipped for a 4.0L flat-six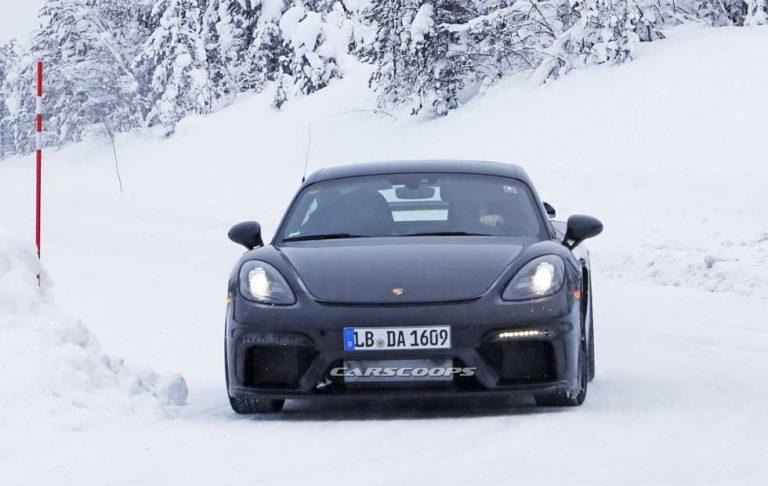 The Porsche 714 Cayman is a very cool little two-seater that shares some DNA with the Boxster drop top. The Cayman has a very cool GT4 version that is hopped up and aimed at those wanting performance on the road and the track. The black car covered in snow you see snapped here is a Cayman GT4.
You can tell it's a GT4 thanks to the big spoiler and other aero tidbits on the car. The images also show cross-drilled rotors, red brake calipers, and lightweight wheels. A dual exhaust sits out back and while the older model had a 3.8L flat-six engine, the new GT4 is tipped for something bigger.
Word is that this car will have a detuned version of the 4.0L flat-six that is used in the epic 911 GT3. In GT3 form, that engine makes 500PS or about 493hp. In Cayman GT4 form reports indicate an output of around 400PS or about 394hp. Torque figures for the GT4 are unknown.
If the bigger engine is true, it will give the GT4 quite a leg up on the Cayman GTS, the model one step down the performance ladder. The GT4 is expected to be offered with a manual transmission or a PDK. As for when the new Cayman GT4 will debut, Porsche hasn't said officially.
Rumors peg the launch for the Geneva Motor Show kicking off in March. No shots of the interior of the black car were taken. Other spy shots have tipped an interior with door pulls made of fabric loops and lots of Alcantara.
SOURCE: Carscoops