Porsche 24 Hours of Le Mans racers rock iconic liveries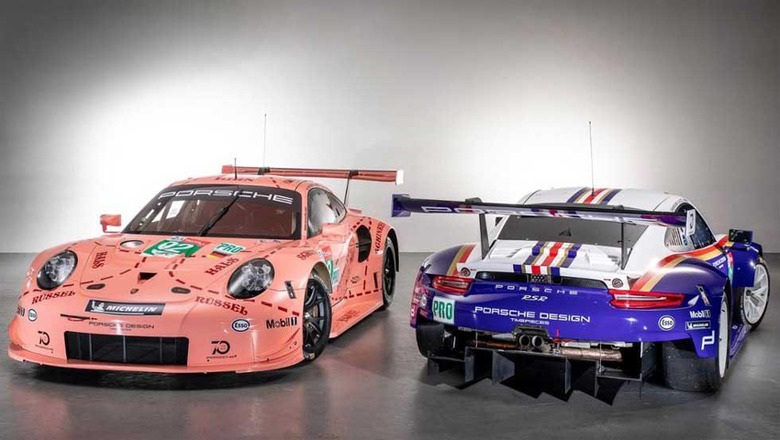 Porsche has shown off the sweet racing cars that it will field at the Le Mans 24 hours race. The two cars are 911 RSR racers and one wears iconic Rothmans livery and the other a pink livered dubbed "Pink Pig." Both are throwbacks to classic liveries that have been seen on the racing rack before.
The Pink Pig livery was first used on the 917/20 in 1971. The blue Rothmans car isn't from a specific racing car apparently but is meant to be reminiscent of the racing cars of that era. The #91 racing car wearing Rothmans colors will be driven by Gianmaria Bruni (Italy), Richard Lietz (Austria) and Frédéric Makowiecki (France).
Rothmans is a tobacco manufacturer from England if you are wondering. The colors were used on a Porsche 959 that won the 1986 Paris-Dakar rally along with other cars used in circuit racing. The Pink Pig livery is the cooler of the two and not a color scheme you normally see on the race track.
Pink Pig is #92 and the 1971 racer it gets its color from was a one of a king car designed to take advantage of the aerodynamics of the short and long tail versions of the 917. Sections of the car are labeled in butcher-style cuts. It will be driven by Kévin Estre (France), Michael Christensen (Denmark) and Laurens Vanthoor (Belgium).
The 1971 racing car was known as the "truffle Hunter" and is one of the most iconic racing cars ever. Porsche says that ten of its 911 RSR racing cars will compete in the 24 Hours of Lemans this year, the race runs June 16-17.
SOURCE: Porsche