Polk Audio MagniFi Max SR system offers 5.1 surround sound for home theaters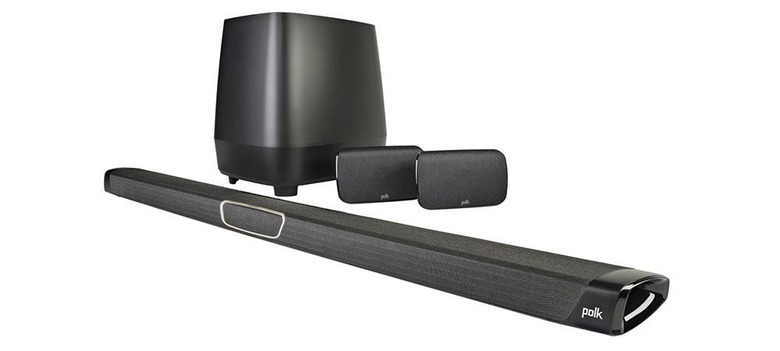 Polk Audio has introduced its new MagniFi MAX SR, a sound bar designed specifically for use in home entertainment setups. This sound bar and related audio system brings 5.1 surround sound to consumers, as well as integration with Google Home for voice-based and hands-free control. Polk Audio boasts a bunch of different features for its new audio product including Voice Audio Adjust, which enable users to adjust the voice levels for maximum dialogue clarity.
The MagniFi MAX SR sound bar features four 1" x 3" full-range drivers alongside a pair of three-quarter-inch tweeters and a 1-inch channel driver in the center. The sound bar also offers an 8-inch ported woofer; the subwoofer boasts greater bass than 'the average' TV, according to Polk Audio, giving consumers things like 'core-pounding' bass.
Despite all it offers, this sound bar is described as low-profile thanks to its 2-inch thickness. Users have a bunch of ports to utilize, including HDMI ARC output, a trio of Ultra HD 4K HDMI inputs, an ordinary 3.5mm AUX port, and an optical input. Users can also play music through the sound bar using Google Home. Polk Audio promises that audio setup is simple — just put the sound bar close to the subwoofer and plug the system into a power outlet.
When used as part of the larger audio setup, users can play stereo audio through the related SR1 wireless speakers by pressing a single button on the sound bar. Meanwhile, users can easily adjust the noise settings using various EQ profiles included with the model, among them being a Night Effect EQ for dampening the bass and boosting the audio volume, Sports Mode for obvious uses, Movies, and Music.
Polk Audio will be releasing the audio system in August at various Crutchfield and Best Buy stores, as well as Amazon. The sound bar itself is priced at $599 USD, while the MagniFi Max is $499 USD and the SR1 speakers are $149 USD.
SOURCE: PRNewswire