Poland's Inspiro Is A Recyclable Subway Car [Video]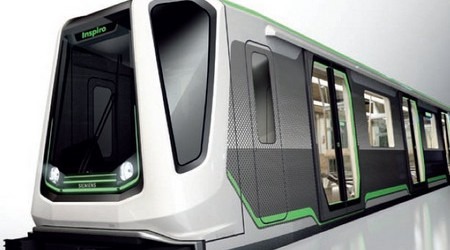 With partners like Siemens and BMW, there's no surprise that Poland would want to go ahead and move forward with the aspirations of one day in the near future of having a completely recyclable subway car. The country has put forward plans to make the dream come true, and have teamed up with the pair of companies to make it happen. The end result, if everything goes to plan, should be a subway car that's near 100% made from recyclable items, and is ready to carry passengers by 2012.
The subway car is being called the Inspiro, and it's set to launch in 2012 in Poland. Those behind the design hope to create the car from an aluminum chassis, which would obviously make the new design considerably lighter than designs currently in use. The designers also hope that with the new aluminum design, that the flow of passengers will be better, if not increase, with the more spacious design.
Interestingly enough, the new subway car will also feature a demand-controlled air conditioning system, as well as electrodynamic braking. With all of that combined, including the fact it should take less energy to run the Inspiro, Poland is hoping to reduce the country's subway energy output by 30 percent. Thinking into the future, Poland hopes to have 35 of the subway cars operational by the end of 2013.
[via Treehugger]