Pokemon Rumble Rush Comes Out Of Nowhere As Nintendo's Next Mobile Game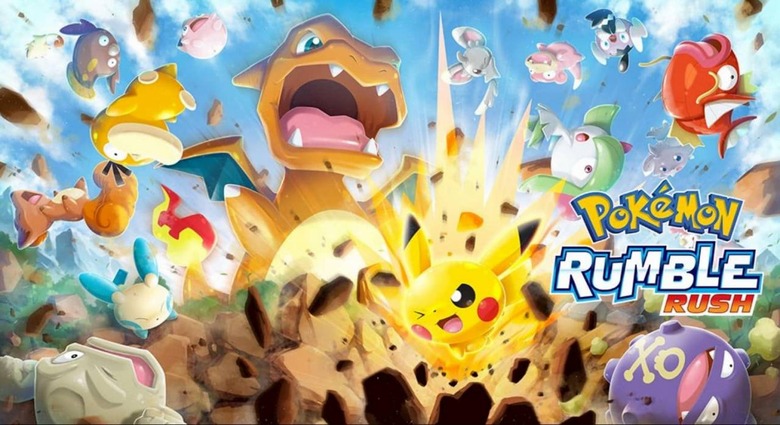 Two years ago, Nintendo and The Pokemon Company revealed a mobile game called Pokeland that seemed to borrow heavily from the Pokemon Rumble series. A close alpha launched with that announcement, but after that, The Pokemon Company went radio silent on the game. Fast forward to today and it has resurfaced with a new title and an imminent release.
Now called Pokemon Rumble Rush, this mobile game tasks players with exploring uncharted islands and battling wild Pokemon. You'll be able to recruit new Pokemon to your team as you play the game, but it's unknown if that's done through some kind of gacha element. One of Nintendo's more popular mobile games, Dragalia Lost, is a gacha game, so it wouldn't be surprising to see that summoning mechanic make its way to other Nintendo games.
In any case, The Pokemon Company explained in a blog post today that players will earn equippable items called gears as they explore each island. There are two different types of gears: Summon gears, which allow your Pokemon to call other Pokemon into battle for an assist, and power gears, which boost the stats of Pokemon and make them stronger.
Each island has a Super Boss waiting at the end of it, so progression seems at least partially centered around defeating those enemies. The Pokemon Company says that Pokemon Rumble Rush uses simple tap controls for attacking and movement, which again makes it sound at least somewhat similar to Dragalia Lost. As with most of Nintendo's mobile games, Pokemon Rumble Rush is billed as a "free-to-start" title, with the option of buying in-game items using real money.
For now, Pokemon Rumble Rush is only available in Australia, but The Pokemon Company says that it'll be coming to other regions soon. We'll keep our eyes peeled for more information on Pokemon Rumble Rush's impending iOS and Android release in the States, so stay tuned for more.