PMA rumor : SONY Cyber-shot DSC-HX1, 20x zoom with 1080p video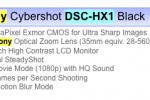 Internet photography-rated community forum is citing a new compact Sony's CyberShot DSC-HX1 would unveil at next week's PMA show. It was a typical pre-show rumor at first, but started to show credibility with online store cache revealed a 9 megapixel, 20x ultra zoom HX1 with Full HD video recording feature.
The supposedly new Cyber-shot would gain many updates, reasonably the successor to DSC-H50, and should be a great contender to Canon's SX1 with rather similar features that's capable of recording 1080p video as well.
[via engadget]