PlayStation-themed Nike sneakers are a gamer's dream footwear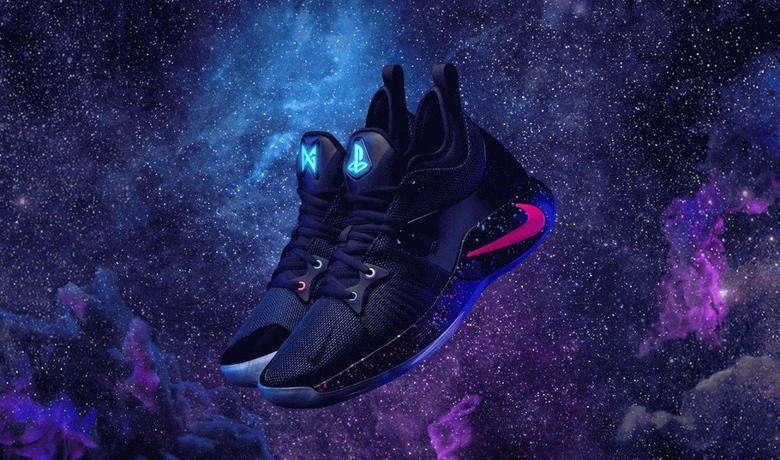 If sneakers and video games are your thing, get ready for a product collaboration made in heaven. NBA player Paul George of the Oklahoma City Thunder has created his second signature basketball shoe with Nike, the PG2, and it's an official collaboration with Sony's PlayStation brand. George himself claims he's one of the biggest gamers in the NBA, and his new sneaker is designed to reflect that by taking inspiration from the iconic PlayStation design and colors.
When explaining his new shoe, George says he's been playing games since he was a kid and wanted to show his love for the PlayStation brand while on the court. Topping the list of design details on the PG2 are a pair of logos on the shoes' tongues, one with the "PS" and the other with George's, and each light up in blue. They're powered by a battery offering around 150 hours of use, and the on/off button inside the shoe features a vibration feedback when pressed that mimics the feel of a DualShock controller.
The controller's button symbols (X, square, triangle, circle) are also embossed on the shoe's patent leather, and signature colors of blue, green, pink, and red are used on the Nike logos and shoelace eyelets. The PlayStation details are even on the inside, where the insole pattern is designed to resemble the PS4 console's dynamic wallpapers. Even cooler is that the back heel of one shoe has a unique PSN code on it that can be used to download a custom Paul George theme.
The Nike PG2 sneakers are set to go on sale worldwide on February 10th, priced at $110. Unfortunately these are limited editions, and likely to get snatched up quickly by sneaker collectors, so you better act fast if you want a pair.
SOURCE Nike, PlayStation Blog