PlayStation PLAY lineup announced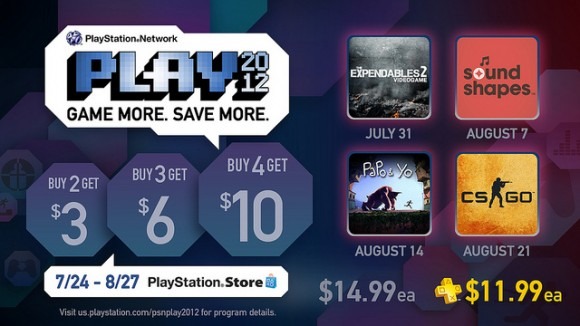 Sony has announced its plans for this year's PlayStation PLAY promotion, which highlights a slate of new downloadable PlayStation Network games toward the end of summer. In addition to featuring specific titles to draw attention to the cream of the crop, gamers receive special discounts if they purchase multiple of the featured games.
Here is the full lineup: on July 31, The Expendables 2 Videogame launches. On August 7, Sound Shapes is released. On August 14, Papo & Yo becomes available, and on August 21, Counter Strike: Global Offensive hits the PSN. Each game will sell for $14.99. Those who belong to the premium PlayStation Plus service will be able to save $3 on each title.
Gamers who buy two of the games will receive a $3 PSN voucher. Those who buy three will get a $6 voucher, and those who buy all four will receive a $10 voucher. All games will be available for pre-order on June 24. This idea of pre-ordering digital content is still something to get used to, since the whole concept of pre-ordering is to ensure you get the title if it sells out. That's not an issue with digital content. But I digress.
[via PlayStation Blog]