Post-it notes are great, but they'll never be able to give the same interaction as the "Play" by Native Union. Instead of leaving a message on the counter for a friend or family member, those with a Play can just quickly record themselves for video playback later. The Play has a magnetic black panel, so it can easily attach to your refrigerator.
As you can see it's quite tiny, and has a 2.4″ LCD display with a resolution of 320×240. It has great battery life as well, with 40 days of standby time and three hours of play/record time you won't have to work about power management as often. Oddly, you can't charge the Play. Instead, it runs off of three AAA batteries.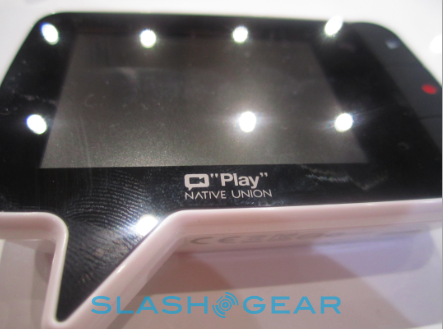 The total record time is 180 seconds – and it fits into the 256mb internal memory. The idea is very good, but there are a few features I would have liked to see included. The first being a Li-ion battery; this day and age it would have been easy to fit one in there – and would help reduce battery cost. The second feature would have to be expandable memory via micro-SD card. It is great to have multiple short clips on the Play, but I foresee many will save messages for viewing long term – thus taking up too much space and time.