Plants vs Zombies: Garden Warfare 2 -- new character classes demo'd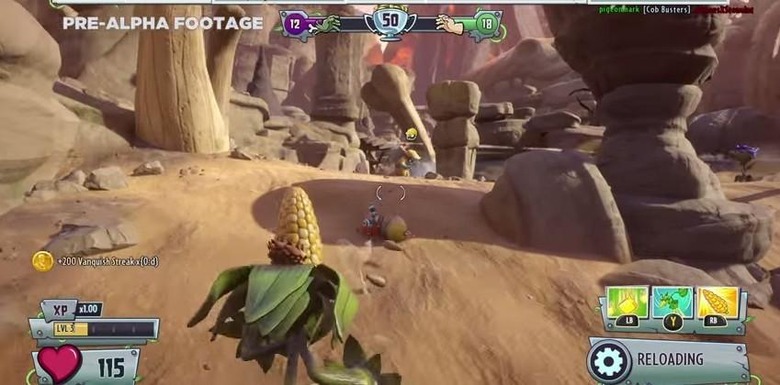 Still playing Plants vs Zombies? In Garden Warfare 2, some things about the franchise have been tossed around and restructured. At this point the game is a fairly robust 3D FPS far removed from the original 2D games, but the storyline itself has changed, too, with zombies battling against plants rather than the other way around. Today the company announced that the game will include six new character classes, which were shown off in a demo video.
There's the Imp, which is a touch crazy and goes bonkers with his guns. He can call in a robot with lasers and missiles and use it as a mech suit, and can it abandon whenever he wants. The suit can then be blown up like a bomb. Next in line is the Citron, an orange that wields an EMP. There's Super Brainz, too, which can throw a super ultra ball, among other things.
Rose, which has a rose-head, supports the plants offensive, says the developer; she can slow down time and makes it easier to mow down the zombies trapped inside. Next is Captain Deadbeard, a long-range-combat zombie that uses a long-range spyglass to take out distant plants and a scurvy-based close-range weapon to take out plants nearby. Fittingly, he can also turn into parrot and ride a cannon.
Rounding it all out is Kernel Corn, a plant that can lob cobs at zombies, call in hot butter strikes, and more. You can see all of this in action via the video above, which demonstrate pre-alpha footage. Once this game is live, there will be a total of 14 classes in Plants vs Zombies that cover an array of characters tallied in the triple digits.
Garden Warfare 2 releases next year.
SOURCE: YouTube