Plantronics Discovery 975 Review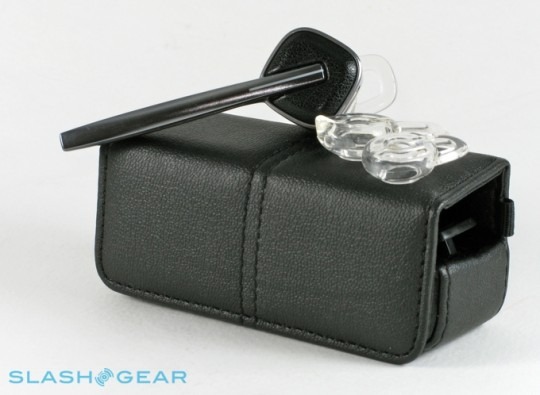 You could talk for ages about where the Plantronics Discovery 975 fits into the company's range, but the simplest explanation is that the Voyager PRO and Discovery 925 had a baby and it's the new prodigal son. Combining the audio excellence of the Voyager PRO and the nifty charging-case of the Discovery 925, find out why we rate the Discovery 975 so highly after the cut.
Visually the Discovery 975 resembles a slimmed down 925, and is far less bulky than the Voyager PRO. Side-on the small diamond-shaped, leather-clad core extends into a narrow boom arm that extends to around half the cheek; it's not the thinnest headset we've seen, but it's light and easily supported by the in-ear gel tips rather than requiring a hook.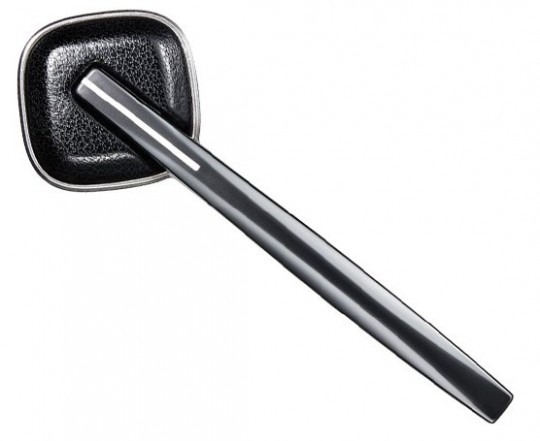 In with the headset Plantronics supply small, medium and large ear tips together with a leather carrying case that doubles as a mobile charger. The Discovery 975's own battery is rated for up to 5hrs talk time or 1 week standby from its 85mA Li-ion polymer cell, but Plantronics told us that they've purposefully "underpromised and over delivered"; indeed, we're seeing more than 5hrs use from the headset, with it comfortably getting through a morning's worth of use and well into the afternoon too. Meanwhile the case has its own rechargeable battery, just as the 925's did, which will rejuice the Discovery 975 up to three times. We're also pleased to see that, unlike rival headsets such as the Jawbone PRIME, which need to be turned off to recharge, the Discovery 975 can remain powered on and connected while it's juicing. The case even lights up and flashes when a call comes in, just to make sure you notice it.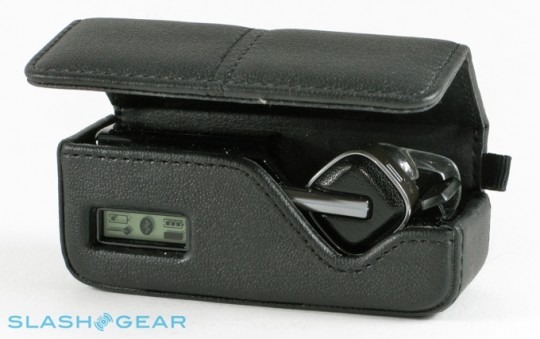 There's also an integrated display, which shows the separate battery status of both the headset and the case, together with the Bluetooth connection status. We far prefer this arrangement to one or more flashing lights on the headset itself, which generally either require decoding or only offer the vaguest indication of how much power is left.
Plantronics Discovery 975 Product Tour
[vms 32c4e6143e665fdb20b1]
As for that Bluetooth connection, the Discovery 975 uses v2.1+EDR and supports Secure Simple Pairing (SSP), the Hands-free and Headset profiles. It'll also use Multipoint technology to simultaneously hold an active connection with two Bluetooth devices: we paired with both our test iPhone 3GS and a MacBook Pro, and were able to easily use both for cellular and VoIP calls in turn. Range is quoted at 33 feet, and we've been able to move around neighboring rooms to our test phones without a loss of signal. The headset has minimal controls – a multifunction button integrated into the boom arm, and a volume/mute control on the side – and supports voice-activated dialing and last number redial when used with a compatible handset. It'll also give you a verbal alert when running low on power, when muted and if the Bluetooth link has been lost.

Of course, the most important element of a Bluetooth headset these days – especially when it has to justify a premium price tag – is its audio quality, and the Discovery 975 happily fails to disappoint. Like the Voyager PRO it couples Plantronics' AudioIQ2 noise-cancelling technology and their WindSmart systems for avoiding wind noise, with the two adding up to incredibly natural sound. This is actually the first outing for dual microphones on a Plantronics headset, which the company tells us is tailored for everyday use rather than the more industrially inclined microphone setup of the PRO. We're seriously impressed with the amount of DSP (digital signal processing), echo-cancellation, equalization (Plantronics say 20-bands) and filtering packed into this 8g headset; having tested it first in noisy rooms and cars, then escalating through even louder situations, those on the other end of the line failed to hear any background noise whatsoever. The icing on the cake is natural voice tones rather than the robotized results of some rivals' heavy-handed processing.

To be blunt, it's as though Plantronics took our criticisms of the Voyager PRO – its bulk, its glasses-unfriendly hook and its overly businesslike appearance – and immediately set to work on a new headset that addressed each one. There's still a place for the PRO in pure business environments, and in truly loud and congested areas that earlier headset does top the Discovery 975's audio performance, but for everyday wear the design, style and ability of the new headset make it an excellent all-round performer. It doesn't come cheap – it'll set you back $129.99 and is available at www.plantronics.com and for pre-order at BestBuy.com and Amazon.com today. The Discovery 975 will be available in Best Buy and Apple stores in late August, and AT&T stores beginning in mid September. Availability at Radio Shack and Sprint stores follows in early October. To sum it up, the Plantronics Discovery 975 justifies the premium price with incredible performance, flexibility and comfort. As offspring go, you can't ask for much more than that.
Discovery 975 walkthrough
Advertisement: Plantronics Voyager PRO