PIzza Hut HK's box doubles as a projector case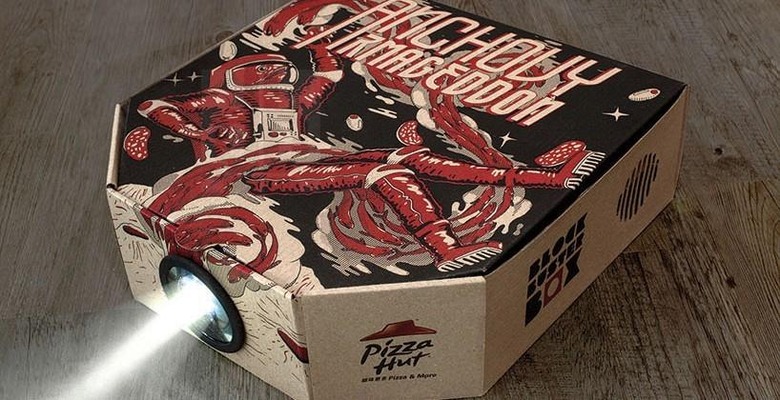 Pizzas and home video binging, what better partners can there be? Realizing this winning formula, Pizza Hut's Hong Kong branch teamed up with the Ogilvy & Mathers Group, also in Hong Kong, to conjure up the Pizza Hut Blockbuster Set. This particular limited edition box was specifically designed both inside and out to bring your favorite films or TV shows to life by projecting them on any wall, while at the same time safely nested that favorite living room video watching grub of all time.
OK, the boxes don't really house a projector, which would definitely make the price rocket sky high, though a projector could help keep the pizza warm. No, that job falls to your trusty mobile sidekick. Yep, your smartphone is the one that does the showing, but thanks to a friction fit special lens, you can project that video on any surface you can conveniently watch a video on, be it a wall, a screen, or even your ceiling.
The box is considerably taller than a regular pizza box to accommodate the height of the lens as well as the propped up smartphone. Each box also has a QR code that you can scan for Pizza Hut's own selection of flicks, though there is nothing that will stop you from showing your own favorites. Just don't forget to take out the pizza before putting the smartphone in.
The box's exterior also displays poster artwork that revolve around the mashup of pizza and movies, with themes like "Fully Loaded", "Anchovy Armageddon", "Hot & Ready", and "Slice Night". Those are the very same titles that Pizza Hut has hidden behind every QR Code.
Apparently, the marketing stunt has been hugely popular since it launched in April, to the point that Pizza Hut is said to be spreading the word to its other branches. Which ones those are, however, is a mystery fit for a detective movie.
VIA: designboom