Pixelmator Pro 1.4 brings editing tools extension to Mac's Photos app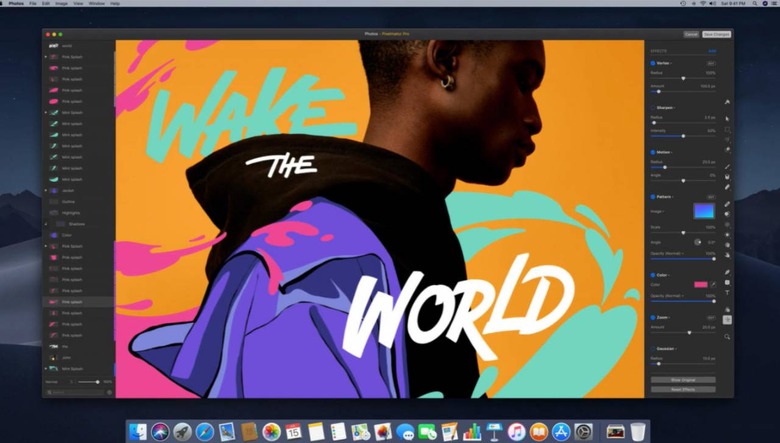 Photoshop alternative Pixelmator Pro has been updated to version 1.4 'Hummingbird,' bringing a major change for macOS users: the application's full suite of tools are now available in the Photos app on Mac. In addition to offering users an editing extension, 'Hummingbird' also brings a new zoom tool, additional templates, and more.
Pixelmator has been around for more than a decade, offering Mac users an alternative to Adobe Photoshop and other lesser known image-editing applications. The Pixelmator Pro application offers a number of high-end features for both macOS and iOS, enabling Apple customers to access the full array of features on their iPad as well as their Mac.
Pixelmator Pro 1.4 offers users a new zoom tool for simplified navigation around an image, as well as a new crop tool with redesigned presets, a Delete mode, and support for custom size cropping. As well, the Hummingbird update has added new image size templates for Apple Watch, iPhone, and Mac devices.
The biggest change, however, is the launch of Pixelmator Pro as an extension for the Photos app on Mac. With this, macOS users can access the full suite of Pixelmator Pro tools directly in Photos, eliminating the need to open the software separately. This will vastly simplify the image-editing process for users who want to toggle between as few apps as possible.
Pixelmator Pro offers a number of high-end image editing capabilities, including tools powered by machine learning and a relatively new digital painting experience involving the company's Dynamic Paint Blending technology. The biggest upside for many users is the software's low cost — unlike Photoshop, Pixelmator Pro is available to purchase for a one-time fee of $39.99 USD.