Pixel 4 UK pre-orders shipping with a sweet surprise inside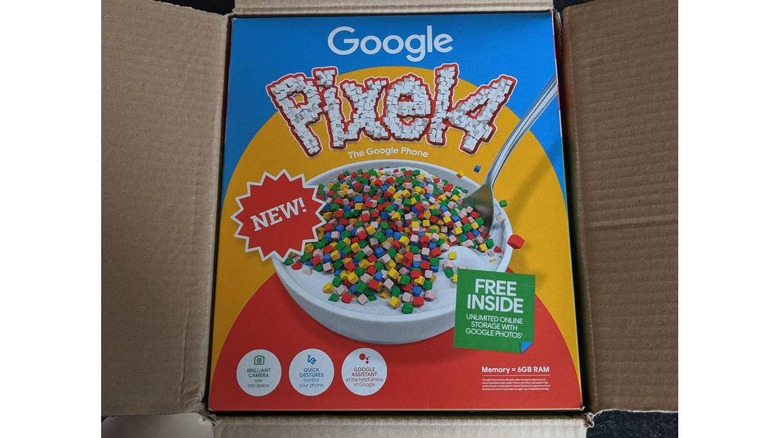 Google may have ditched the dessert names but it's still not about to give up its sweet tooth. At least not for some faithful UK fans who pre-ordered its latest smartphone in advance of everyone else. Imagine their surprise and confusion when they received not a retail box for the Pixel 4 but for something else. Yes, the phone was actually inside the box along with a sweet treat. But, no, it wasn't a dessert that started with the letter "Q".
As if trying to show it still has a spirit of whimsy and fun, Google sent out a few packages of the Pixel 4 to around 2,000 people in the UK who pre-ordered the phone. It also enlisted the help of YouTuber Oli White to emphasize that unique way of delivering the company's latest Android phone.
Of course, the Pixel 4 wasn't naked in the box along with the cereals. That would have probably been an IP resistance test given the amount of fine particles that rumbled and tumbled inside. Instead, the Pixel 4 neatly sat inside its regular retail box along with a small pack of cereals. Yes, edible cereals and, yes, it's only good enough for one small serving.
Google's UK team creatively made use of the standard design of cereal boxes to advertise the Pixel 4's features, including the rather confusing unlimited free cloud storage for photos (depending on the size or quality). Instead of food stats you get a few tech specs and instead of ingredients you get a rather lengthy marketing blurb. And, of course, there's even an extremely simplistic maze game too.
The Pixel 4 cereal box, which recipients will most likely treasure for posterity, was Google UK's way of thanking some of the first believers in the Pixel 4. It is also reminding pre-order buyers, whether they received a cereal box or not, that they're eligible for a free HP Chromebook 14 within 14 to 45 days of purchasing the Pixel 4.