Once upon a time, your options were pretty limited when it came to obtaining a Pixel phone. The line originally started as a Verizon carrier exclusive (though it's always been available through the Google Store as well), but with the launch of the Pixel 3a, Sprint and T-Mobile started carrying Pixel phones as well. That left AT&T as the odd one out, but that may soon be changing with the launch of the Pixel 4.
According to PhoneArena, AT&T may be getting the Pixel 4 alongside Verizon, Sprint, and T-Mobile, meaning that Google's flagship line will be available at the four big carriers here in the US as well as its own store. PhoneArena received a screenshot of an alleged internal AT&T email that claims the company will begin seeding the Pixel 4 to one salesperson per store.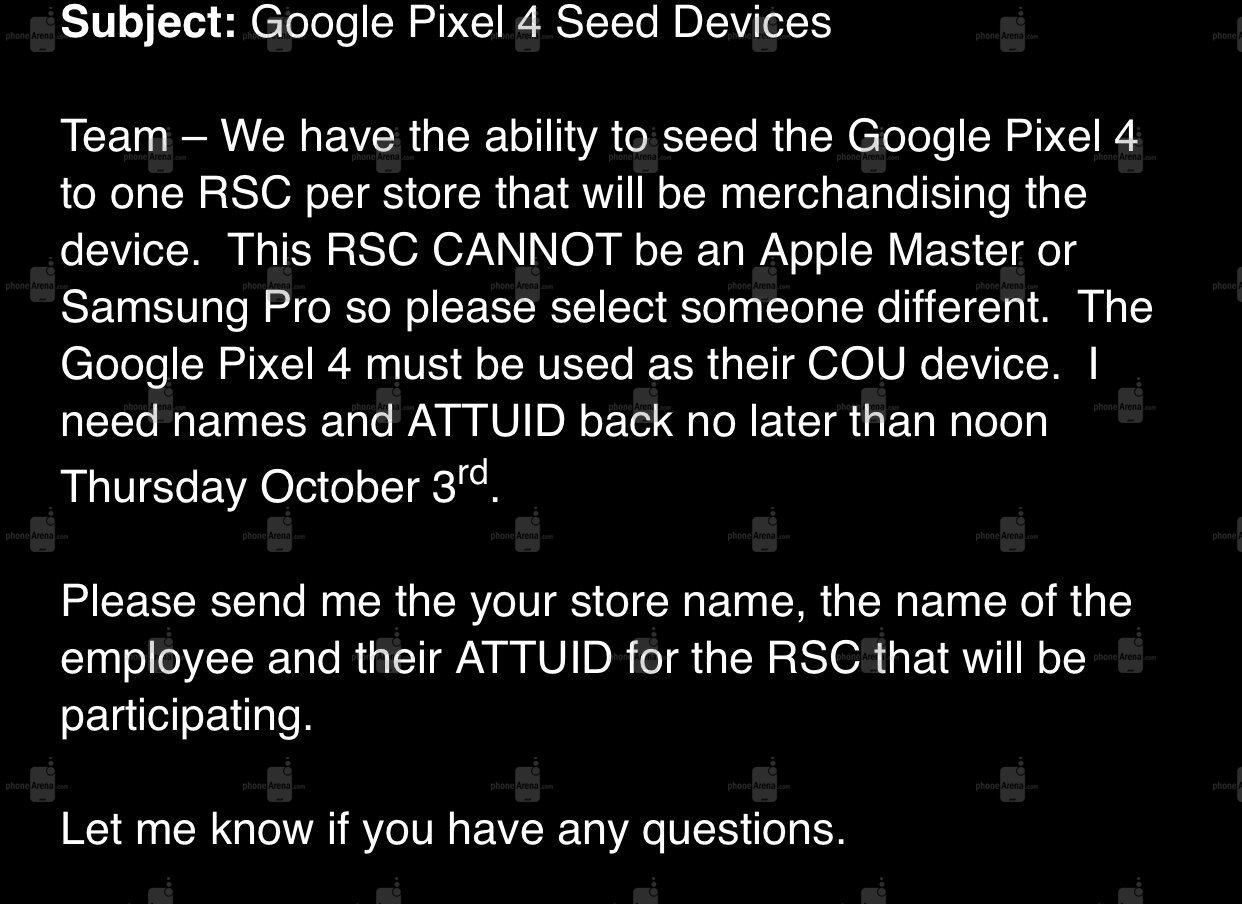 The idea, obviously, is to have someone on the floor who uses the Pixel 4 regularly and can therefore answer questions and be a point of contact for customers who are thinking of buying a Pixel 4. The email published by PhoneArena today is very clear that the person selected to use the Pixel 4 can't already be an Apple Master or a Samsung Pro, which makes sense.
Obviously, with no branding in the email screenshot to speak of, it's hard to say for sure that AT&T will be getting the Pixel 4. Still, seeing as it's the only major carrier in the US to not carry Pixel devices, it wouldn't be surprising at all to see Google add the company to its roster this year.
We won't have to wait much longer before all is revealed. Google is set to announce the Pixel 4 at an event that's scheduled for Tuesday, October 15th, around a week-and-a-half from today. We'll be covering that event as it happens, so be sure to check back here at SlashGear on the day of for all our coverage on the Pixel 4.