DxOMark has always prided itself for being the benchmarking experts not just for digital cameras in general but even more for smartphones. They have become so popular that OEMs have even started using them in their marketing. But throughout the years, DxOMark has avoided testing one of the most important uses of a smartphone. That has finally changed and it is now benchmarking how front cameras perform for selfies, bokehs, and even video recording.
There's a reason why DxOMark stayed away from front camera benchmarks, or so it says. It was only recently that such cameras have even become worth testing. Before, they were very crude sensors that were good only for the occasional video chat. These days, they sometimes even rival main cameras with the HDR, PDAF, and large sensors.
For their front camera tests, DxOMark promises to apply the same rigorous methods they've used for rear-facing cameras but with a few changes. Considering their main use case of taking selfies, the tests focus on scenes with one or more people in it, sometimes with varying skin tones, and from different distances. They even made an eerie mannequin bust for that!
For its first round of reviews, DxOMark tested 12 smartphones across a wide range of brands and markets. The two that came out at the top were the Google Pixel 3 and the Samsung Galaxy Note 9. While they tie in their average scores, DxOMark judged the Pixel 3 to be better at stills, autofocus, and contrast. The Galaxy Note 9, on the other hand, won at video recording, cleaner images, and softer faces.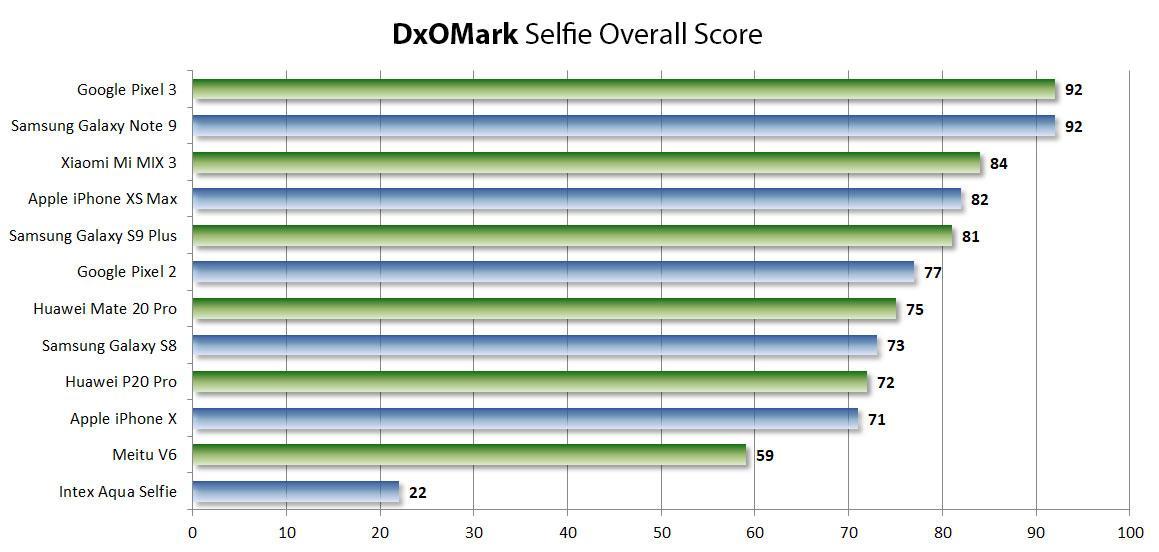 The iPhone XS Max surprisingly fare a bit worse than even the Xiaomi Mi Mix 3, ending up in fourth place Apple's best faltered a bit when it came to more difficult lighting situations. That said, that could change if the rumors are true that this year's iPhones will have even better sensors on their faces.