Pip-Boy: Deluxe Bluetooth Edition is fit for the apocalypse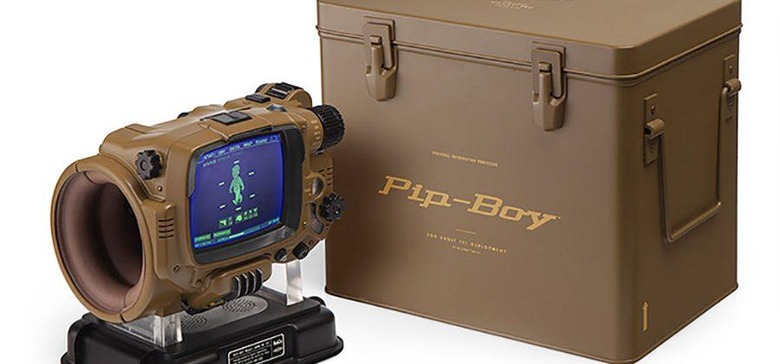 Gamers who have played Fallout 4 or any of the other games in the franchise will recognize what this is right away. It's the Pip-Boy Model 3000 Mk IV that the player wears in the game. It's a perfect replica and while it's worth noting that the one in the photos is a prototype, ThinkGeek promises it will look exactly like it does now when the final version lands. The device doesn't work with the video game, which is sad.
It would be perfect if you could sync it with the app that runs on the smartphone that actually shows statistics on the smartphone screen from the game. This replica interfaces with your smartphone and shows you who is calling. It doesn't claim to show notifications like a smartwatch, simply to show you caller ID info, SMS messages, play audio files, and act as an alarm clock.
It pairs with your smartphone using Bluetooth and its real purpose in life is simply to be an awesome cosplay prop, which it is. Most of the knobs, dials, and buttons on the device actually work. It even has a slot for holotapes and the holotape itself is actually a flash drive. When not showing you who is calling, the device shows a reproduction of the Status, Special, and Perks screen from the game.
It weighs in at two-pounds and is lined with foam for comfort. It appears that the basic black Velcro strap actually holds it to your arm. The device also ships with a RobCo Industries stand that doubles as a charging base and a speaker when the Pip-boy is in place. The storage container it ships in looks like it is straight out of the Vault. Since the device is in prototype form, there is no indication of screen resolution or how long the battery lasts per charge. You can pre-order at ThinkGeek with shipping expected in November for $349.99.
SOURCE: ThinkGeek