Pioneer VSX-1021 AV Receiver supports Apple AirPlay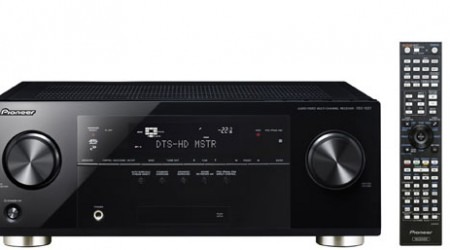 Pioneer has unveiled the first in a new series of AV receivers that will support Apple AirPlay. The new receiver is the VSX-1021 and it sells for a surprisingly low price of $549.99. The receiver supports 7.1-channel sound and the big feature is certainly the support for Air Play. The receiver can receive music streamed from iTunes and play it on you home theater system and it can connect too your network with integrated Ethernet support.
The receiver also has an optional WiFi receiver for wireless connectivity. The receiver is also designed to work with the iPad, iPhone, and iPod as well with an included USB video cable for the device so no dock is needed. The Apple gadgets will also charge while they are docked. The system allows you to listen to music from your iPhone and view the album art on your TV and it can steam other content from your device like YouTube and more.
The Apple gear can also be used as a remote control for the receiver with an app that is available for download. The VSX-1021 supports Bluetooth streaming as well for any smartphone or device with Bluetooth connectivity. Other features include Internet Radio and lots more. The receiver has five HDMI 1.4a inputs and can upscale to 1080p via HDMI.