Pioneer Unveils New AV Receivers With Smartphone Integration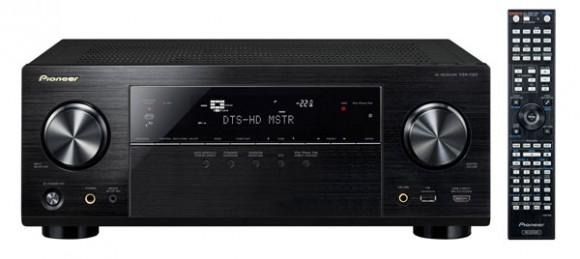 Pioneer Electronics has unveiled its new 2013 line of home theater A/V receivers. The new receivers promise to make it easy to integrate your smartphone into your home theater entertainment options. The new A/V receiver line includes the VSX-523 and VSX-823 5.1-channel, VSX-1023 7.1-channel, and VSX-1123 7.2-channel receivers.
All of those receivers share many of the same features. The new receivers have expanded iPhone, iPad, and iPod support allowing users to listen to their music store those devices and display album art and metadata when connected to a TV or other display source. The three top models in the range can play content from the iPad and charge the device with support for iPhone and iPod devices via cables.
One of the cables available does support the Lightning port on the iPhone 5. The high-end 1123 unit also has an interactive owner's manual that helps users learn the functions of the receiver by automatically opening content about a specific feature on the receiver when the user presses a button and needs more detail. The 823 and 1023 receivers can also be controlled using smartphone applications.
On 823 and higher models, the receivers feature a MHL 2.0 input and the new receivers also support HTC Connect. The three top models of receivers support Apple AirPlay for wireless streaming from the iPhone or iPod. Other features of family include 4K Ultra HD Pass Through on all of the new receivers and the high-end 1123 is able upscale analog and HDMI video signals to 4K Ultra HD resolution. The new receivers will be available in March at prices ranging from $279 up to $629.
[via Pioneer Electronics]