Pioneer shows off new pro DJ digital turntables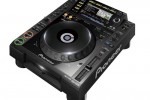 One thing that I haven't really been interested in since I spent a week being grounded for trying to scratch with my dad's Thriller album was being a DJ. If you are the DJ sort looking to take your game to the next level, Pioneer has unveiled a pair of new digital turn tables.
The two turntables are the CDJ-2000 and the CDJ-900 that are designed to work with digital files and allow the DJ to perform without needing a laptop. The turntables feature Pioneer rekordbox music management software.
Other features of the turntables include Pro DJ Link, Needle Search, USB, and SD connectivity. The SD card function is limited to the CDJ-2000, which also has a CD/DVD capability. Both devices support MP3, AAC, WAV, and AIFF audio files from CD and USB devices. The CDJ-2000 will ship in November for $2,150 and the CDJ-900 will ship in December for $1,600.