Pioneer reveals Zypr as free, open alternative to Siri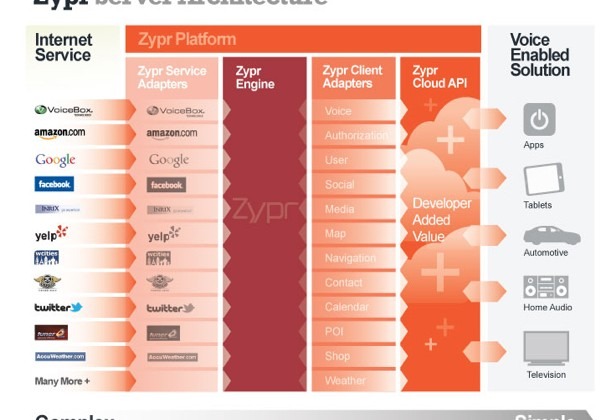 Pioneer launched a free platform today called Zypr that will offer intelligent voice-controlled assistance features similar to Apple's Siri. Whereas Siri is currently limited to only the iPhone 4S and will likely still remain limited to iOS over time, Zypr isn't limited to only one mobile operating system and can be used on smartphones, tablets, and other consumer electronic devices, including in-vehicle entertainment systems, smart TVs, and more.
Similar to Siri, Zypr responds to natural voice commands and is able to complete various tasks, such as finding the best local restaurant in your area or telling you what the weather will be like, all without you having to navigate through your phone. But Zyphr gives developers more freedom to integrate features and is a free and open platform that handles all the third-party integrations so that developers don't have to do that individually.
The Zypr API aggregates and manages third-party APIs from services such as Facebook, Twitter, and Google, categorizing their functions into a normalized API that developers can access for the stable delivery and integration of voice-controlled features to multiple devices. Being cloud-based, Zypr-powered apps can also follow users across multiple devices.
Pioneer is offering the Zypr API for free, hoping to monetize through paid search, advertising, and subscription services. The company is also offering developers revenue sharing based on the number of users accessing their apps.
[via Zypr]