Pioneer Rayz Plus Lightning earbuds have a port for iPhone charging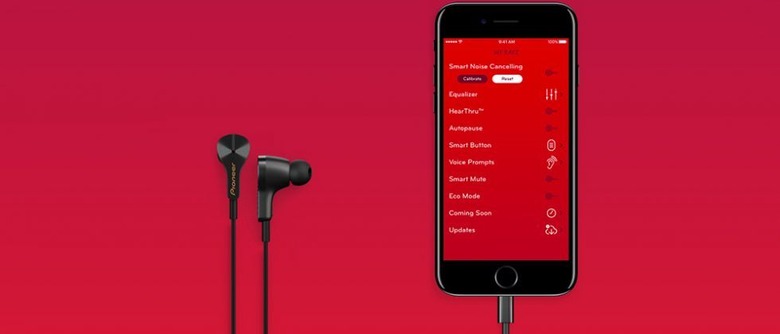 Pioneer has launched a new pair of earbuds equipped with a Lightning connector, the Pioneer Rayz and Rayz Plus. The latter of the two models addresses a critical problem for some iPhone owners, allowing the owner to both listen to audio through the earbuds and charge the handset at the same time. This is made possible via a slim in-line port on the earbuds' cable to which a Lightning charging cable can be connected.
The Rayz earbuds are no doubt made in response to Apple's decision to remove the iPhone 7's headphone jack, leaving those who prefer wired earbuds with a dilemma: listen to audio or charge the phone, but not both at the same time. We've seen some third-party solutions to that, but most come in the form of large adapters that add a 3.5mm audio jack to the phone, freeing up the Lightning port.
The new Pioneer earbuds are different, featuring a Lightning connectpr (the Rayz model) and a built-in Lightning port for charging the phone at the same time (the Rayz Plus model). According to Pioneer, Rayz Plus is the first earbuds model to offer such a feature, and they're also the first to market with 2nd-generation Lightning Audio Technology.
The earbuds feature an in-line remote with four buttons for adjusting volume and similar. There are also 'multiple microphones' combined with voice isolation tech for calls and communicating with Siri. As well, the Rayz earbuds offer what Pioneer calls 'HearThruä' mode, which lets in noise from the outside world for talking and staying aware without removing the earbuds.
There's also Smart Noise Cancellation to help block out unwanted ambient noises. If you do remove the earbuds from your ears, they will automatically pause your audio, then automatically restart it when you place them back into your ears. The Rayz earbuds will be available in Ice and Onyx colors, and the Rayz Plus will be available in Bronze and Graphite colors with metallic finishes. They can be grabbed from OneCall.com for $99.95 and $149.95, respectively.
SOURCE: PRNewswire