Pioneer outs pair of new DDJ controllers for Traktor and Serato DJ software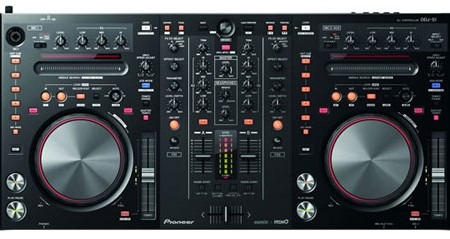 Pioneer is big in the DJ gear market and has unveiled a pair of new DJ controllers that are aimed at the professional that uses Traktor or Serato software to spin their tunes. Both of the new controllers are for digital file users. The DDJ-T1 comes bundled with the Traktor software and has all the popular features of Traktor with no need for software updates.
The T1 is a 4-channel deck controller with six effects and recording. It has an effect area that looks just like the software interface for effects for easy use. The dual jog wheels are 115mm and the controller has Needle Search. The features include a design for laptop integration, optimized audio circuit, and plug and play USB connectivity. The T1 sells for £899.
The DDJ-S1 is a controller for Serato Itch software and is made for connectivity to pro PA gear and has a mic input for talking over tracks. The device is designed to tightly integrate into the software for playing music directly from a computer. It has alphabetic search and slip mode tech. Other features include various inputs and outputs with balanced XLR mode and more, it will sell for £1099.