Pioneer debuts new DDJ-SX DJ controller for Serato software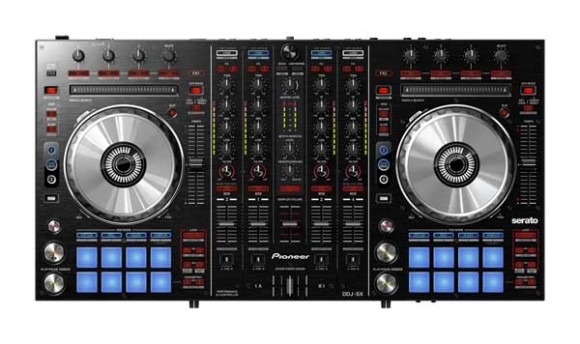 Pioneer has unveiled another new DJ controller called the DDJ-SX. This DJ controller is built specifically to work with the newest DJ software out there called Serato. Pioneer says that this DJ controller utilizes Serato as the basis for its control layout and ergonomic design. The DJ controller has special trigger pads and controls specific to the software.
Pioneer used larger jog wheels to allow the DJ more precise mixing and scratching, and the controller has multiple inputs for expandability and four-channel mixing capability. The DJ controller features Dual Decks allowing two tracks to be controlled at the same time to allow for scratching or recalling hot cues on both tracks as if they were performed on a single track. The controller also features Slip Mode.
That mode allows a song to be played silently during a performance loop, scratch, or hot cue and resumes audible playback of the song when the other operation ends. The controller also supports multiple FX mode and single FX mode. Other functions for the controller include the ability to set up to eight hot cue points for each deck and a vertical waveform display for tempo synchronization.
The controller has a number of other features and ships with the Serato DJ software. The DDJ-SX has dual CD and phono/line inputs for external devices and two inputs for microphones. It also features two master outputs with XLR and RCA capability. The controller will ship in November at an MSRP of $1199.