Pioneer AppRadio connects your iPhone to your car radio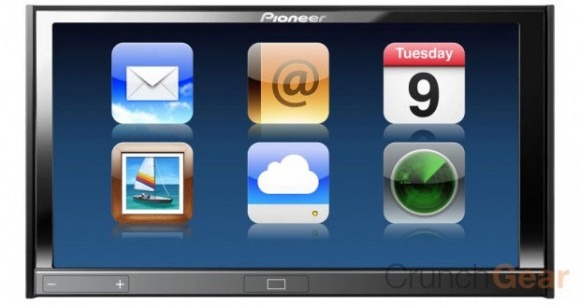 There are bunches of people that just don't like the radio that comes in their vehicle. For these people there are hoards of aftermarket radios that they can replace their factory offerings with. Pioneer is a big name in the aftermarket radio scene and has been for a long time. A new Pioneer radio for your car has surfaced and the thing appears to have very tight iPhone integration.
The head unit is a double DIN offering that will fit inside most modern vehicles without any issues. The model number for the AppRadio is SPH-DA01 and it hit the FCC yesterday. That should l mean that the radio is set to hit the market before long. The most interesting part is that the mockup of the interface shows what appears to be a iOS style interface. I would love to see a car stereo that has tight integration and allows my iPhone to shoot whatever content I am looking at out to the larger screen.
A tipster told CrunchGear that the unit feels exactly like the iOS experience. I really have to wonder if the radio is Made for iPhone certified or has permission from Apple to use what appears to be a knock off of the interface on its screen. I still hope that what the renderings show is just the mirrored interface from the smartphone. Presumably, the iPhone would be providing the web connectivity and the radio supports streaming radio from the web and more. I tend to watch a lot of Hulu Plus and Netflix in the car when waiting for school to let out and this would be perfect. I would also like to see the iOS GPS nav from my iPhone on the larger radio screen.
[via CrunchGear]