Pinterest launches Secret Boards for private pinning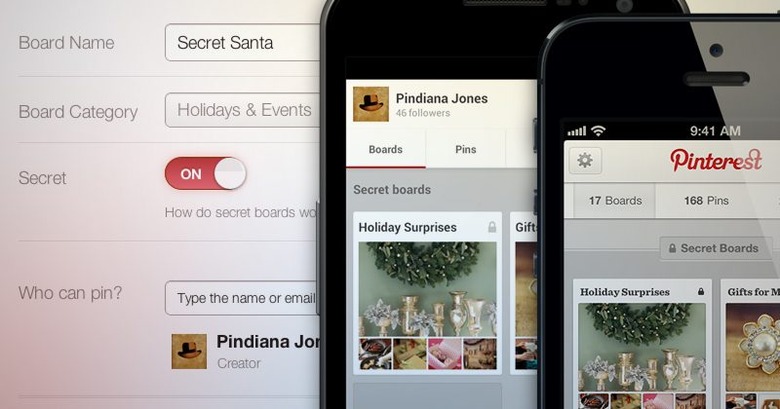 Pinterest, the online board where users can pin images for other users to see and share, has finally added private boards. Secret Boards, as the new feature is called, allows users to set up private, user-restricted boards where images can rest safely knowing they're not open to public scrutiny. The feature is being "gradually rolled out."
A Secret Board can be a private board that no one else has access to, allowing you to gather together images for your own use that no one else can see. Alternatively, the feature can also be set up so that certain users are authorized to view and interact with it. According to the announcement, the feature was launched today and is gradually be rolled out, with no details on what exactly that means.
Pinterest's software engineer Evrhet Milam stated this in the announcement. "We hope that secret boards will make Pinterest even more useful. You can use secret boards to keep track of holiday gifts, plan a special event, or work on a project you aren't yet ready to share with the rest of the world. You can keep your secret boards to yourself or invite family and friends to pin with you."
Creating a private board seems pretty straight forward. Log into your Pinterest account, then click on your profile and scroll to the bottom of the page. Select "Create a Secret Board," then click "Add+." In the board creation screen, click "Create Board," then be sure to switch the Secret button to the "On" position.
[via Pinterest]