Pinterest boasts President Obama as member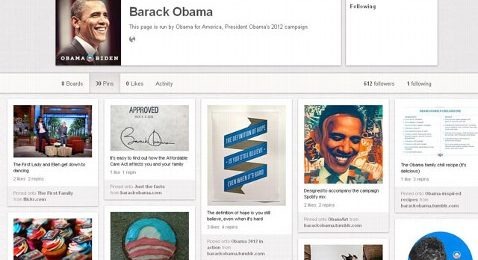 Barack Obama may have a busy schedule, but apparently he still has time to pin things. The president has just joined one of the fastest growing new social platforms, Pinterest. "Organizers, infographics, murals, and cake — now pinning all of the above for #Obama2012 on Pinterest," the president's official Twitter account posted this week. Will the president's pinning fortitude help his run for reelection?
Okay, so it isn't actually Obama who's pinning things. His campaign staff is managing the account, in an effort to showcase the commander in chief's savvy with the young, connected generation. As of this afternoon, the Obama Pinterest account already had more than a thousand followers and had pinned a couple dozen articles including family recipes and political-themed content.
Pinterest could be the next big thing in social media. Last month, the site reported 17.8 million unique visitors, representing a steep climb from previous months and catapulting it to the #3 status on Comscore's list of highest-gaining online properties. Being connected to social media is, of course, a must in the political world these days. Every major candidate in the Republican side of things has an official Youtube channel, Facebook page, and Twitter account. But Obama's the only one who has jumped on Pinterest.
[via VentureBeat]