Pikes Peak racing EV catches fire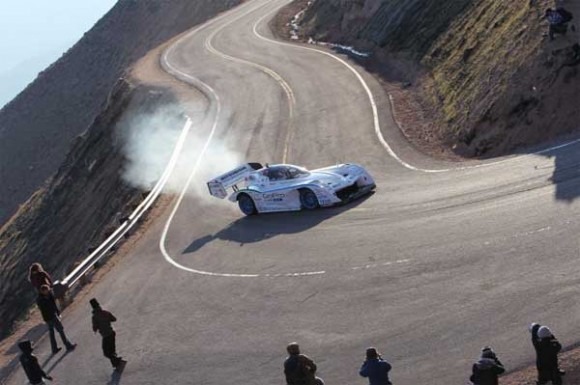 There've been a surprising number of EVs that caught fire recently. The last high-profile fire in an electric vehicle was over the past weekend when a Fisker Karma caught fire in a grocery store parking lot. The exact cause of that fire is still under investigation. It's not only street legal EVs that have caught fire in recent days. A racing electric vehicle caught fire during the annual Pikes Peak Hill climb race in Colorado over the weekend.
Reigning hill climb champion Nobuhiro "Monster" Tajima conducted three days of successful practice runs up Pikes Peak in his new all electric E-Runner Pikes Peak Special race car. Monster was able to qualify first in the electric class with significant distance between him and the second-place qualifier. Some even thought that Monster and his electric vehicle might take the overall win.
However, after several successful practice runs, things went awry during the first official run up the mountain for Monster and his EV. Only about a mile into the race, the electric motor began to overheat and caught on fire. Monster said he saw smoke coming from the motor and had to stop the car so the fire wouldn't get any worse.
The overall win for the event went to Rhys Millen driving a race-tuned Hyundai Genesis coupe. Millen had an overall time of 9:46.164, beating the course record of 9:51.278. One massive asterisk on that record-setting time is that this is the first year the Pikes Peak course has been fully paved. In previous years, some of the top sections of the course were dirt. You can check out the video to see one of Monster's practice runs that went well. You can also look at the second video of a massive accident during this year's event that both the driver and navigator walked away from.
[via Wired]