Pics of new Gigabyte mini-ITX H55N-USB3 mainboard surface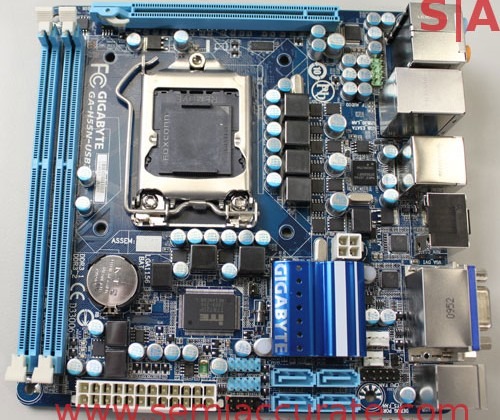 The typical computer system that an enthusiast would use for gaming or general office work uses an ATX form factor mainboard. There are some cases where the ATX form factor is too big, like SFF computers and HTPC machines.
Some pics of a new Gigabyte mainboard for compact computers using the mini-ITX form factor have surfaced. The new board is called the H55N-USB3 and as you can gather by the name of the board, it sports USB 3.0 connectivity. CPU support for the board is for Intel LGA1156 processors.
The board uses the Gigabyte 3x USB power feature to let devices connected to the ports get more juice if they need it. The tiny boards measures 17 x 17cm and offers a single expansion slot for a single slot x16 PCI Express video card from the looks of it. The board also has a pair of DIMM slots for RAM, four SATA ports, and USB 2.0 headers. The back of the tiny board has lots of connectivity with VGA out, DVI out, HDMI out, S/PDIFF out, Ethernet and lots more.