Photoshop For iPad Needs A Creative Cloud Subscription: Details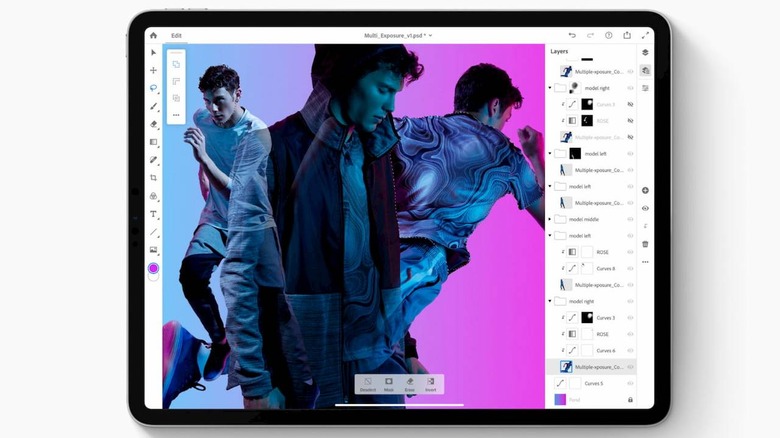 In case you missed the news, the iPad version of Photoshop is launching today. That means the app is exiting the closed beta period it's been in for the last six months and is now available for everyone to download. Before you dive in, however, there are some things to keep in mind – namely that Photoshop on iPad requires a subscription to Creative Cloud to use it.
Creative Cloud, as many Photoshop users already know, is a subscription service that has become the primary way Adobe monetizes its various apps. Adobe's apps are each offered through standalone subscriptions, though there are some that are available in bundles with others as well. Then, of course, we have Adobe's "All Apps" subscription, which bundles everything together for one monthly fee.
Creative Cloud plans with Photoshop for iPad
That brings us to the question of how you'll pay to use Photoshop on iPad. If you're already subscribed to Photoshop or the All Apps plan on Creative Cloud, you're good to go – Photoshop on iPad is included in both of those plans, so you don't need to pay anything extra. Adobe's Photoshop subscription runs $20.99 monthly if you commit for a year, though you can also buy a prepaid annual plan for $239.88 or go month-to-month for $31.49 per month.

Adobe's All Apps plan is quite a bit more expensive, as that comes in at $52.99 per month (again with a year-long commitment) or $599.88 when you pay for a year in advance. If you go month-to-month, the price climbs pretty dramatically, jumping up to $79.49 per month. If you're just looking to use Photoshop and don't anticipate using any of Adobe's other apps, shelling out for the All Apps subscription is definitely not what you want to do.
The best Photoshop and Lightroom bundle
There is a third option that might be more appealing to those who are looking to sign up for Creative Cloud now that Photoshop is on iPad. Adobe is offering a Photography bundle that includes Photoshop, Lightroom Plan, Lightroom Classic, and 20GB of Cloud Storage for $9.99 per month. With this bundle, you also have the option of 1TB of storage, which brings the price up to $19.99 per month. Keep in mind that both of those prices require that you sign up for an annual plan which is then paid monthly – there's no option to go month-to-month with this bundle.
By default, Photoshop for iPad is not included in the 20GB tier, but it is included in the 1TB tier. However, those who purchase a subscription to this bundle before January 31st, 2020 will get Photoshop for iPad included with the 20GB plan. So, if you're not already subscribed to Creative Cloud, this might be the bundle to go with.
Adobe's Creative Cloud pricing can definitely get a little confusing, and if you're looking to sign up, you'll want to take some time in considering which Adobe apps you'll use regularly so you can figure out if an All Apps plan is worth the cost. In any case, keep in mind that even though Photoshop for iPad is free to download, you'll need to begin paying to use it at some point down the road.