Photojojo telephoto lens offers up to 12x zoom for the iPad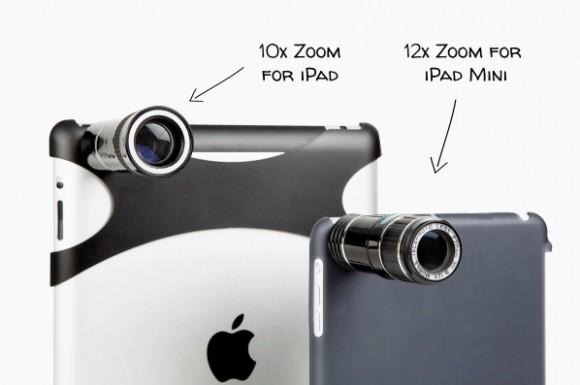 As awkward and dumb as it looks, people take photos and videos with their iPads whether you like it or not, and Photojojo — the company behind a line of popular smartphone camera accessories — is taking advantage of that fact. They have released the Photojojo telephoto lens that you can attach to your iPad or iPad mini.
There are two different versions of the lens, one built for the full-size iPad and the other built specifically for the iPad mini. The full-size iPad version sports a 10x zoom, while the iPad mini lens has a 12x zoom. The lens also comes with a minimalistic case for your iPad that allows you to attach the lens to the tablet.
The two lenses also have manual focus rings on them so that way you can adjust the photos to your liking, offering you a bit of manual control over the iPad's camera app, which leaves a lot to be desired in that respect. The lens is about the size of a small handheld flashlight, and it quickly screws on and off the iPad shell for easy storage when you're not using it.
As for price, you're looking at $25 for one of these lenses, which isn't too terrible, considering that a smartphone lens from the same company is around the same price. As far as compatibility, Photojojo says that the full-size iPad lens will only work with the 3rd- and 4th-gen iPads, although you may be able to squeeze it on the iPad 2 if you really wanted to.