Phosphor Reveal watch is bedazzling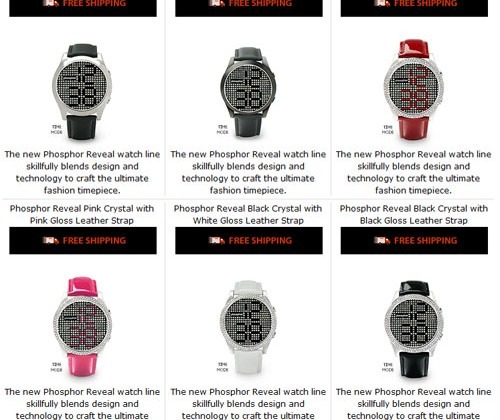 The last time we talked about the cool line of Phosphor watches was back in November when the company unveiled the World Time watch. Phosphor is back with a new line of watches called the Phosphor Reveal. These watches have a couple designs that appear to be aimed at guys and then several theirs that are more feminine looking with crystals around the bezels and shiny straps.
The watch can be had in a black leather strap with silver case or black leather with IPB case and the more manly side. The watch comes with a crystal-adorned bezel with glossy pink, red, white, or black straps. The red watch has red numbers and the pink as pink numbers with all the others using black numbers.
The face of all of the watches is packed with crystals, which are what looks like the white dots. The numbers on the watch face are rendered by using an electromagnetic field to slightly channel the crystal position and display the time. These aren't cheap watches with a MSRP of $249 for the glossy versions with crystals on the bezel and $199 for the versions lacking the crystal bezel.