Phillips X55P - Be my valentine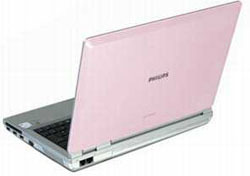 Oh my, I don't hate pink color for any reason, it just my sister is crazy about pink and I'm starting to feel nuts about it. I don't think Phillips is making a pink lappie just to drive me nuts.
Phillip's X55P powered by Core 2 Duo T5200 CPU at 1.66Ghz, sporting a 100GB hard drive, dual layer DVD writer, 12.1" screen and bundled with Windows Media Center.
The X55P seems to be a great gift for your valentine; it will cost you £649.99 ($1300). So I guess I'm sticking to chocolate and cards this year.
Pink laptop from Philips [via shinyshiny]