Philips SpeechAir Android voice recorder has touchscreen and camera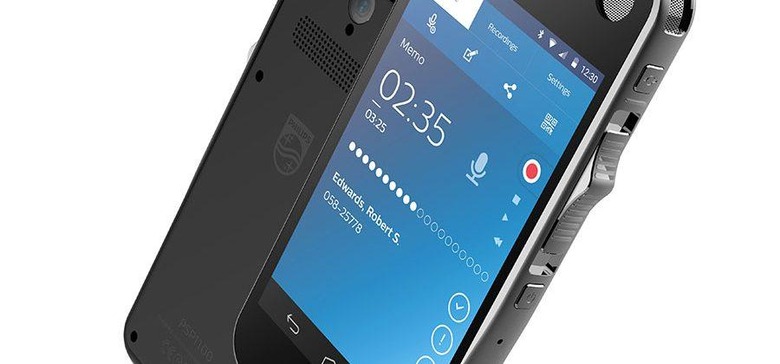 In some industries, there is a big need for high quality voice recording capability. A couple of those industries include the legal and medical fields. Philips has unveiled a new voice recorder that looks more like a new smartphone than a traditional recorder. The device is called the Philips SpeechAir and it has a lot in common with a smartphone in style and the fact that it runs the Android operating system.
SpeechAir can transfer recordings made over WiFi or Bluetooth. With the main feature being voice recording, the device has three microphones to give the device better recording capability. On the side, a single-handed slide switch controls operation and the recorder supports remote administration. The integrated camera can snap pictures to go along with recordings and it can scan barcodes as well.
The housing of the recorder is antimicrobial and shock proof to survive bumps along the way and the touchscreen is covered with Gorilla glass. All recordings made with SpeechAir are encrypted with 256-bit AES in real-time. The recorder supports PIN or password protection and the camera can be locked. To further protect the device, it can be WiFi restricted as well. Philips is primarily targeting medical and legal markets where voice dictation are common.
The integrated battery is a 2700 mAh unit good for up to 12 hours of recording. The processor is a dual-core Cortex A9 running at 1.6 GHz paired with 1GB of RAM. Android 4.4.2 is the OS and the SpeechAir has a port for a 3.5mm mic and headphones if needed. The touchscreen is a 4-inch IPS unit supporting 16 million colors with 480 x 800 resolution. The integrated mics include a 360-degree unit for meetings and dictation and directional mic for speech recognition. Pricing is unannounced at this time.
SOURCE: Philips