Philips GoGear Muse PMP unleashed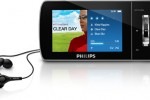 Philips isn't exactly a top name in the PMP market that is dominated by Apple with SanDisk in a distant second place. Somewhere well down the line would be Philips with its new, and quite sexy GoGear Muse PMP.
The device has 16GB of internal storage ad can play both audio and video files. Philips claims the Muse will deliver best-in-class sound quality thanks to its proprietary FullSound technology that equalizes varying tones in the music tracks.
The device has a 3-inch QVGA screen and the player uses Philips SuperScroll technology to search large libraries. Other features include a FM tuner with RDS and 20 presets, high-def earphones with three interchangeable ear caps, support for DRM free tracks from iTunes, and a battery good for 30 hours of playback. The device is available now for S$349 or about $244 in America. There is no word on if the player will make it Stateside though.