Philips BeardTrimmer Series 9000 Launches As First Trimmer With Integrated Laser Guide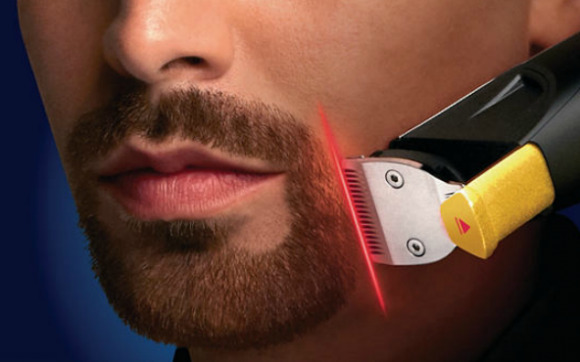 Just in time for the soon-to-be-over month of Movember, Philips has launched the world's first facial hair trimmer with an integrated laser guide to help keep lines straight and even. Called the Beard Trimmer 9000, this small device has a variety of adjustable settings, and uses the laser to provide an instant, accurate, hands-off approach to avoid skewed lines.
The laser element is simple to use, projecting a single line onto one's face for following along a straight line. If you're hoping for a projection of multi-line patterns, you're still out of luck, as the pattern wouldn't hold shape given the constantly-moving nature of a handheld trimmer. The straight line is a good first step, however, and makes your morning ritual a bit more futuristic.
Despite having a small laser mounted on it (and being electric, obviously), the trimmer has a boasting right as being all-waterproof, meaning you can rinse it straight under the faucet without issue. The battery has a 60 minute charge time and 60 minute run time, and comes with accessories and whatnot, such as a beard comb and cleaning brush.
Beyond that, the Beard Trimmer 9000 has a small LED display to show how close you're trimming, and a rolling "lock" to set the trimmer to a specific height. There's a battery level gauge for monitoring the battery charge, and a two-year warranty. The trimmer is available now from Philips and various retailers for $99.99 USD.
SOURCE: Wired