Philips announce PicoPix 2480 pico projector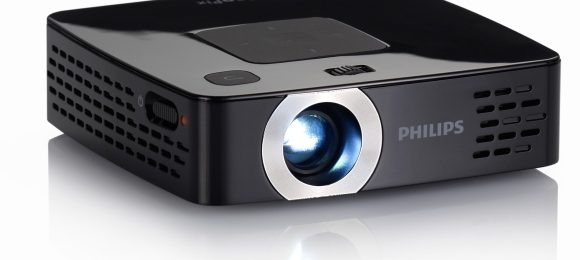 While some are actively working on putting mini projectors in a phone, you can still rush out and buy a pico projector if you're filled with such a desire. Philips has today announced that they're launching a new pico projector in its range, the PPX2480. You'll find the same features that you can expect from other projectors in the range, although it looks like Philips will be aiming this at the top end of its line.
The PicoPix 2480 will be able to throw a 120" (320cm) image with its 80 lumens LED bulb, although that will drop to 55 lumens when you're relying on the internal battery. If you want to pipe some media to your projector, you have a couple of options. You could use the internal MP4 player to view videos from the 2GB internal storage and microSD/USB ports, rr you could rely on the traditional video hookups, which include HDMI, VGA, Component and Composite connections.
Natrually, you won't be enjoying HD content with such a small form factor, but it's not all bad news. The PicoPix 2480 has a 854x480 resolution, and a respectable contrast ratio of 1000:1, so it should be good enough for a quick spot of YouTube or last week's episode of Mad Men. The battery is rated for up to 2 hours of playback.
The Philips PicoPix 2480 is available now in the UK, and can be purchased from retailers such as Currys and PC World. You'll be able to buy it online from Dixons and John Lewis, and should set you back £279.99 (~$452).