Philips Ambiglow Plus Base Monitor Features A Color Synchronized Mood Light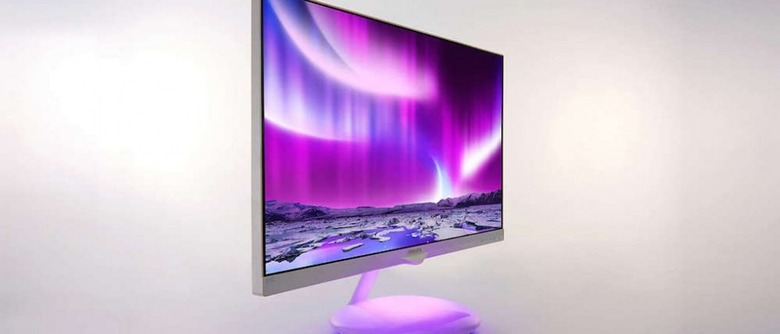 Philips has just announced a new monitor called the Ambiglow Plus Base, and while it may look like a standard 27-inch display at first, the base actually houses a halo-shaped light that turns on and matches the color in sync with what's on the screen. While the offers the benefit of a more immersive viewing experience by extending the colors on the monitor to nearby walls and surfaces, the light can also be turned on when the display is not in use.
Philips explains that thanks to a processor, the Ambiglow Plus Base can analyze and match the colors being displayed in an instant, creating a "viewing experience that moves color and vibrancy beyond the screen itself."
But even if users aren't enjoying the monitor's screen, it can serve as a kind of mood light, filling a room with colors based on preference, such as blue in the daytime, or a warm orange glow in the evening. There are also options to have the light cycle through a variety of colors, or turn on and off automatically based on timer settings.
As a display, the Ambiglow Plus Base features near edge-to-edge glass, with a barely-there 3.5mm boarder around the screen. Along with Full HD, the AH-IPS LCD technology provides a 178-degree viewing angle. Lastly, the backside has dual HDMI ports, a HDMI audio out, and a standard VGA input.