Peugeot E-Legend Concept Is A 504 Coupe Throwback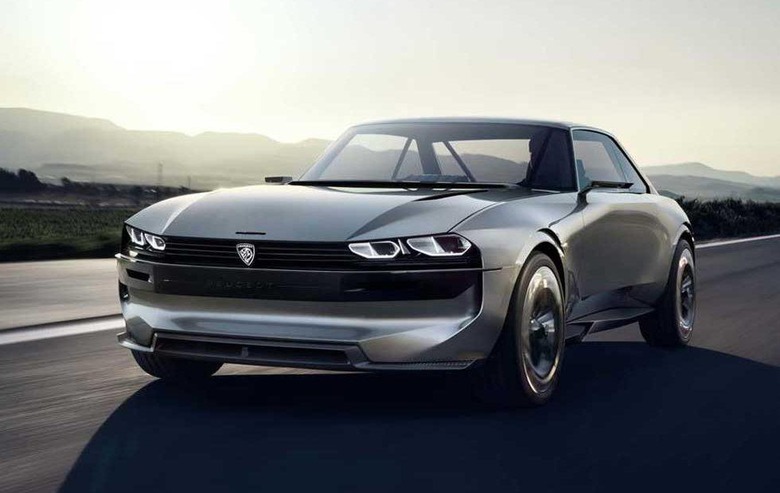 Peugeot has been making cars for a long time and like any automaker that has been around for decades, it has some legendary cars that fans love. One of those legendary cars is the 504 coupe and a new concept has the style that retro fans will like. The new car is the e-Legend and it will debut at the Paris motor show in October, 50 years after the coupe version of the 504 launched.
Peugeot concept car design head Matthias Houssan says that this was his most difficult concept ever. The challenge came in finding balance between the heritage of the 504 and futuristic ingredients without leaning on retro design too much. Under the sexy style of the body is future tech with an electric powertrain with dual motors.
Each axle has its own motor and combined they make 456hp and 590 lb-ft of torque. Peugeot claims a 0-60mph time of under four seconds and a top speed of 137mph. The battery pack under the slinky body has 100kWh of juice and Iives under the floor of the car.
The driving range per charge promises to be 370-miles. The car offers two driver modes and inside there are three driver screens that mimic the three dials on the 504 coupe's dash. The interior has retro looking blue velvet fabric.
e-Legend is designed for hands-off autonomous driving and has the latest Peugeot i-Cockpit system inside for a minimalist dash design. Most of the dash is a Focal soundbar under a large 49-inch curved screen that acts as an information display when driving and a screen for video or games when in autonomous mode. It even has a version of Pong installed by default since the 504 and the game launched the same year.
SOURCE: Autocar