Periscope debuts web profiles for users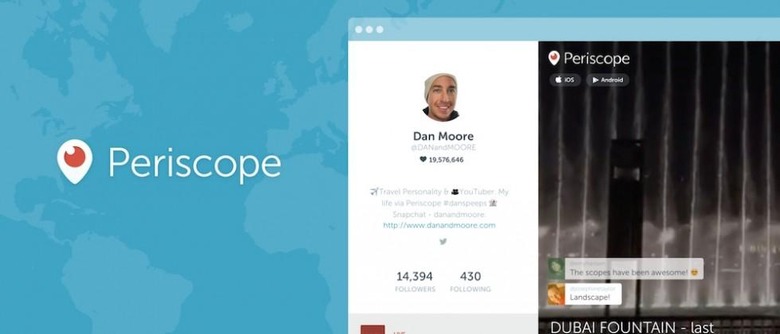 Twitter-owned Periscope has just launched a new feature that brings the service in line with other social networks like, well, Twitter. Periscope users are now able to set up profile pages on their accounts, writing a few lines of information about their interests, what type of content they broadcast, or even their location and personal homepage. Users will have their own periscope.tv/username URL, where all their recent broadcasts can easily be found.
Periscope explains that this update is an important one for popular broadcasters, as their fans can quickly navigate to their web profile on the service and start watching a live broadcast, instead of trying to find a link to the video feed. Plus, even if broadcasters aren't big and famous, they still a simple, direct URL they can share with people or on other web profiles.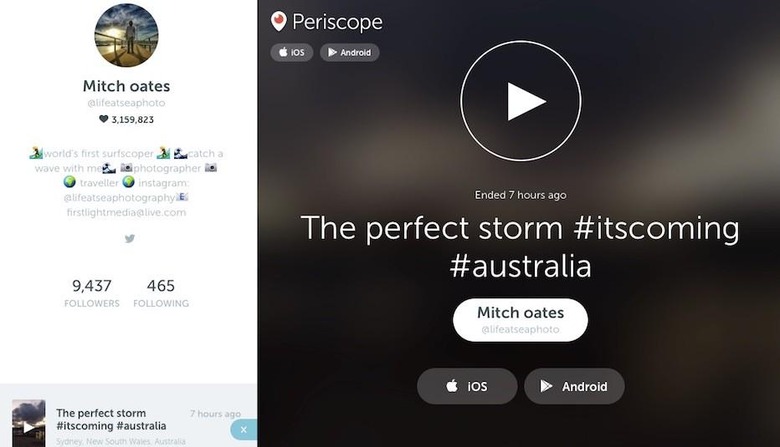 When viewing a profile page on the Periscope website, either the current, live broadcast, or the most recent broadcast, can be viewed on the larger right half of the screen. The left side displays profile information, and by scrolling down users can see a list of previous broadcasts that can be clicked on to view.
In their announcement post on Medium, Periscope highlighted a few popular broadcasters and user their profile pages as examples. This included AJ+, a network of reporters around the world who give viewers a first hand look at human struggles, Zagat, the food and restaurant network, and Funny or Die, which brings their hilarious comedy video format into real time.
SOURCE Periscope/Medium