Pepsi to launch a smartphone in China
Yesterday, a report surfaced claiming PepsiCo would be releasing its own smartphone in China. Now, a day later, that news has been confirmed, with PepsiCo announcing that it is working with an unnamed "licensing partner" to produce its own-branded smartphone and related accessories. The phone will only be available in China, which will reportedly have a formal announcement made in Beijing on October 20.
The news originally came from Mobipicker, which published the image you see below. According to their sources, the phone will be called the Pepsi P1, and will feature "decent but not high-end specs." Those specs reportedly include a 5.5 inch 1080p display, an MT6592 1.7GHz SoC, 16GB of internal storage, and 2GB of RAM.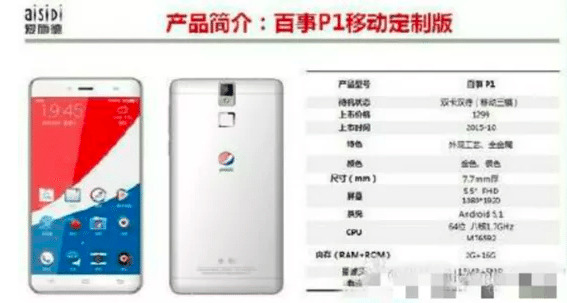 The purpose, obviously, would be marketing — if you see Pepsi's logo on your smartphone the bazillion times a day you pick it up, you may be inclined to choose that beverage over a competing one. PepsiCo confirmed the news in a statement to Reuters, saying, "Available in China only, this effort is similar to recent globally licensed Pepsi products which include apparel and accessories."
Pricing has not been revealed (or speculated about). The big question is whether it will be low enough for someone to decide they're fine having what is essentially an advertisement stamped on their phone. What do you think? Would you buy a Pepsi-branded smartphone if the price was right?
SOURCE: Reuters