Pentax White K2000 DSLR kits gets price and out for pre-order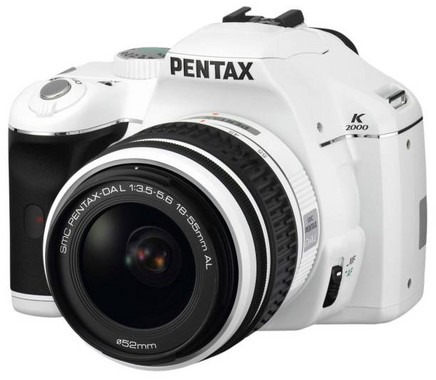 A white finish DSLR is not my favorite cup of tea, though I do own a few white optics from Canon, but I can't say the same for millions other Pentax photographers, or it's only thousands left these days? Back in December, Pentax surprised the photography communities with the announcement of a white-alternate K2000 bundled with two zoom lenses kit, but left the guessing works on pricing information; today, they have made it available.
The white Pentax K2000 bundle kit comes standard with two matching pair of zoom lens in white colors, covering shooting distance from 18 to 200mm ranges with Pentax DA L 18-55mm F3.5-5.6 AL and Pentax DA L 50-200mm F4-5.6 AL zoom lens.
It's available now for $680 at Pentax online store, much lower than anticipate, but may not ship till the mid of February according to the manufacturer.