Pentax Q7 compact camera offers interchangeable lenses and 120 color options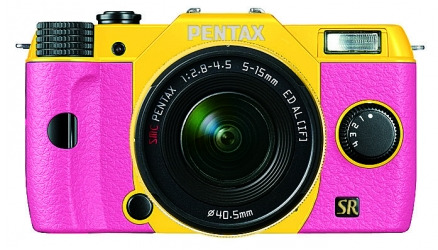 If you've ever found yourself thinking, "I wish my camera was bright yellow and Laffy Taffy purple," you'll be excited about Pentax's latest offering, the svelte Pentax Q7 compact system camera. As with the K-50 and the K-500 that were revealed earlier this evening, the Q7 is available in 120 different color combinations, meaning you'll be hard-pressed to find a combination you can't create.
The ton of color options aside, this compact unit features a 1/1.7-inch backlit CMOS sensor, as well as ISO that goes up to 12,800, and the "enhanced" Q ENGINE. The Q7 weighs in at 7-ounces, and Pentax hails it as the lightest and smallest compact system camera available on the global market. Alongside with the camera's launch is the 07 Mount Shield lens unveiling, which Pentax says produces a visual effect akin to a pin-hole camera.
The Pentax Q7 features some fun on the software side of things, with 19 smart effects and filters, as well as seven lens effects. There's the ability to layer multiple effects to create unique and detailed dynamic effects, with Pentax using this to specifically take a jab at cell phones cameras and apps like Instagram: "[This effect] provides better image quality than cell phones ever dreamt of."
There's Pentax's integrated Eye-fi SD compatibility, a front-located quick dial for customizations, a built-in pop-up flash, and an internal sensor-shift Shake Reduction feature. For those who prefer going old school, Pentax offers an external viewfinder, but the camera itself only offers a 3-inch LCD. Shutter speed clocks in at 1/2000 of a second, and there's in-body RAW development.
Executive Vice President Jim Malcom said: "Don't be fooled by the Q7's small size and 120 color combinations. As the smallest and lightest compact system camera in the world, this tiny gem is packed with serious specs and capabilities including a number of digital filters and smart effects." The camera is available now for $499.95 online, and will hit shelves in August.
SOURCE: Pentax