Pentax Optio WG-1 and WG-1 GPS digital cameras appear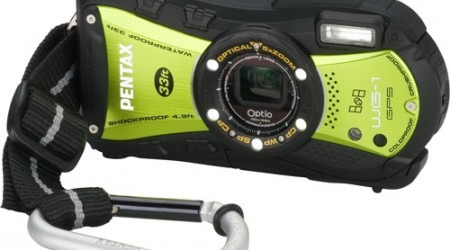 Pentax has announced a pair of new ruggedized point and shoot digital cameras for the outdoors types that want to take pics, but need a camera that will survive use that would break a normal cam. The new cameras unveiled include the Optio WG-1 and the WG-1 GPS.
Both of the cameras have the same features with one difference. The GPS version has the ability to track and record positional data with the images. Common features include a 14MP sensor, waterproof to 14 feet, shockproof to survive falls from up to five feet, and a crushproof housing that can survive 220 pounds of force.
The WG-1 camera has a digital microscope mode that has five macro LEDs for lighting and a stand for steady image capture. They also have Face Detection, a self-portrait assist mode and more. The rugged design also makes them able to survive cold and resist dust. The lens is a 5x internal optical zoom unit and they can capture HD 720p video. The WG-1 will sell for $349.95 and the GPS version will go for $399.95 with both shipping in April.